Honeywell Dehumidifiers Help Cleanse Your Surrounding Air and Help Prevent Mold & Mildew for a more Comfortable Home Environment.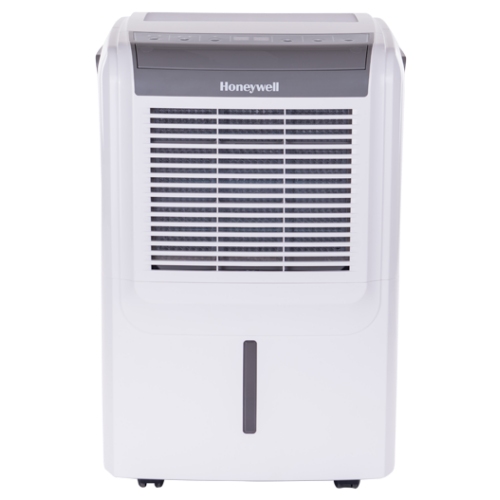 The Honeywell brand has received worldwide acclaim for releasing a series of products that best exemplify versatility, convenience and overall performance. This is a readily observable fact that can be seen in Honeywell's collection of Home Air Quality products and accessories. Honeywell Humidifiers, Air Purifiers and Dehumidifiers are all an excellent means of creating the ideal breathing environment and can go a very long way in securing that extra peace of mind. For this entry, we will be focusing on Honeywell Dehumidifiers and their effectiveness in establishing the very best of breathing experiences.
Honeywell Dehumidifiers are an essential addition for homeowners looking to combat a series of allergens such as mold and mildew. The Honeywell DH45W 45-Pint Dehumidifier, Energy Star Certified was specifically designed for ease of use and features a number of beneficial additions that will allow owners to accurately maintain optimal levels in humidity. Incredibly durable and compact by design, Honeywell Humidifiers are easily transferable and encompassed in a glossy white exterior that blends elegantly in nearly any room. Capable of removing up to 45 pints of moisture daily from small to medium sized rooms, this is an excellent option for bedrooms, dens, bathrooms and living rooms. A Smart Digital Humidistat Control System has been implemented to perfection and will automatically measure a room's moisture levels while activating dehumidification to correctly sustain desired humidity levels.
The addition of these humidity controls will allow you to effectively reduce and maintain a level of humidity that is agreeable for your surroundings. A detachable water tank with an ergonomic handle has been included and is capable of collecting up to 10.6 pints of moisture. Other additions such as a convenient full tank light, buzzer alert system front water level indicator and auto shut off/restart add tremendous versatility to an already performance exceeding dehumidifier. The Honeywell Store will also be including the Honeywell DH50W 50-Pint Dehumidifier, Energy Star Certified and Honeywell DH70W 70-Pint Dehumidifier, Energy Star Certified. Featuring all of the strengths of the previous model, these additions feature a broader capacity for combating allergens and removing moisture.
Energy Star certified, Honeywell Dehumidifiers represent the pinnacle of Honeywell ingenuity and are premier selections in securing the ideal breathing environment. For additional information on Honeywell Dehumidifiers, Humidifiers, Air Purifiers and an extended selection of Filters, visit the Honeywell Store today.
Honeywell Dehumidifiers are Easy To Operate, Maintain and Clean: