The Honeywell InSight™ Series Air Purifier delivers powerful HEPA filtration and features a cutting-edge design that displays device setting information from a distance. The easy to read color coded feedback on the clear Insight™ Display Panel will illuminate which cleaning level (4 available) you've selected. The Honeywell InSight™ HPA5100 HEPA Air Purifier uses Certified HEPA filters to help capture up to 99.97% of microscopic allergens and particles.1 This air purifier can help capture airborne particles such as dust, smoke, pollen, pet dander and mold spores in medium to large rooms (4.8 x air changes per hour in a 190 sq. ft.).2 In addition, the carbon activated pre-filter helps trap larger particles and helps reduce odors and VOCs (volatile organic compounds).
A+ Genuine Pre-Filter
This air purifier works with the Honeywell A and A+ Pre-Filter. The Pre-Filter is the first level of filtration and helps capture large particles such as dust, lint, fibers and pet fur and helps to reduce VOCs & odors from cooking, smoke, bathrooms and pets. This filter should be replaced every 3 months. The filter check/reset light will remind you when it's time to change your filter. Initial filter included. To ensure stated product performance, use only genuine and certified Honeywell replacement filters.
R Certified True HEPA Filter
The Certified Honeywell True HEPA R Replacement Filter helps capture up to 99.97% of microscopic allergens, 0.3 microns & larger from any air passing through the filter. For optimal cleaning performance, replace your HEPA filter every 12 months. The filter check/reset light on the HPA5100 Air Cleaner will remind you when it's time to change your filter. Initial filter included.
AHAM Verifide
Any air purifier that is AHAM (Association of Home Appliance Manufacturers) Verifide means that it has been independently tested to ensure its efficiency in reducing smoke, dust and pollen in the suggested room size. The AHAM assigns a CADR (Clean Air Delivery Rate) Rating that measures the volume of filtered air delivered by an air cleaner. The Honeywell HPA5100 InSight™ HEPA Air Purifier received the following CADR Rating:
4.8 Air changes per hour in a 190 sq. ft. room
Tobacco Smoke: 114
Dust: 140
Pollen: 140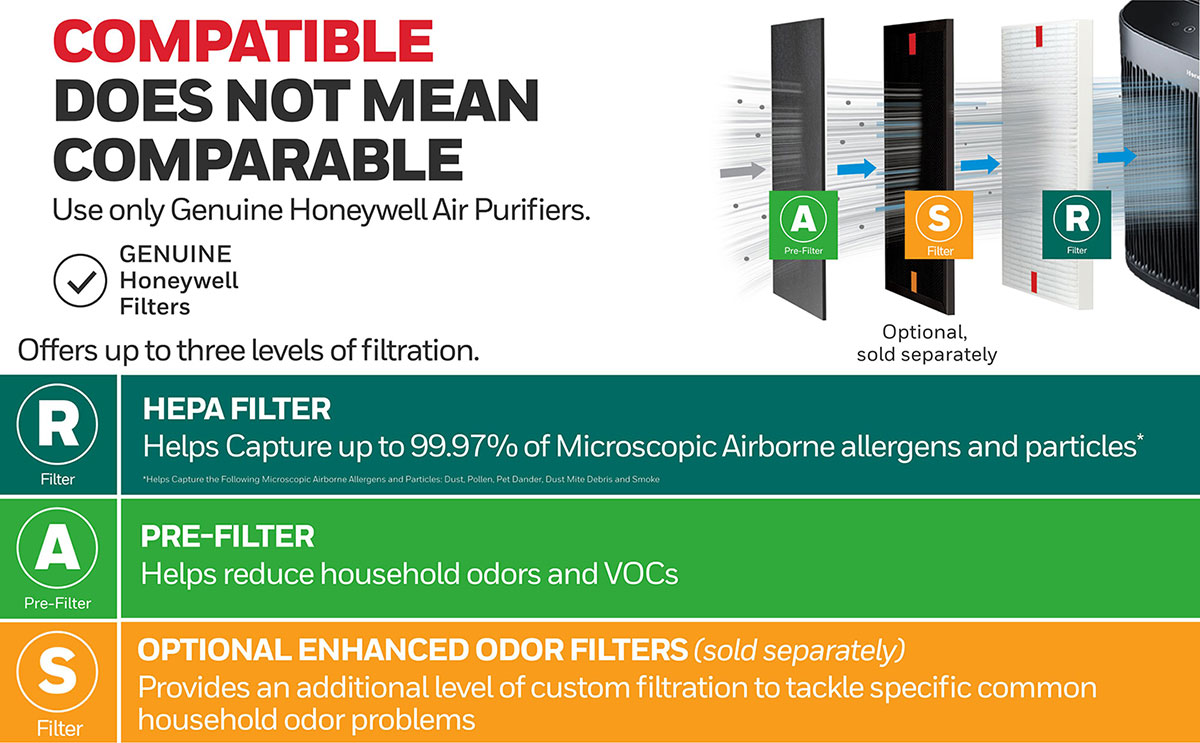 From the air that passes through the filter, 0.3 microns and larger.
Based on 3rd party independent CADR testing for the smoke CADR value when operated at the highest level. Air circulation depends on many factors, such as room size and configuration. There is no guarantee that all of the air in a room will pass through the filter.
Replacement True HEPA Filter R
Replacement Pre-filter A
Replacement True HEPA and Pre-filter Combo Pack
Replacement Filter S

Room Size: Medium-Large (175 sq. ft.)
Product Dimensions (L x W x H): 16.18 x 11.26 x 17.68 in.
Product Weight: 13.45 lbs.
Warranty: 5 Year Limited Warranty
1Based on March 2018 Cascade Survey Research results reporting 48 out of 70 (69%) surveyed Allergists that recommend a brand of portable air purifiers to their patients, recommend "Honeywell" air purifiers as their first choice.
2 Based on 3rd party Independent CADR testing.
3 Based on independent testing, report 104100035COL-001. Honeywell purifiers are not tested for pathogenic (harmful) viruses & Helen of Troy makes no claims about their ability to reduce COVID-19 or any disease-causing viruses.
Q: My Air Purifier is starting to make noise and the air output is less. What's wrong?
A: The filters may be dirty. High amounts of contaminants can block the pores in the filter and stop the air from moving through it. Replace the Filters. The HEPA Filters should be replaced every year and the Pre-Filter and Enhanced Odor and VOC Filters should be replaced every 3 months. Please note these are guidelines only and filters should be checked periodically as individual home conditions may vary. To ensure the unit is performing properly, replace with Certified Genuine Honeywell Filters.
---
Q: How long should I run my Air Purifier?
A: In general, the unit will be most effective when doors and windows are closed. It is recommended that you run your air purifier while you are at home to help clean the air. If desired or conditions warrant, you may run your air purifier 24 hours a day
---
Q: Can I wash any of the filters in my Air Purifier?
A: No. Washing the filters will ruin them.
---
Q: What are VOCs?
A: Volatile Organic Compounds (VOCs) are emitted from various solids and liquids such as paints, cleaning supplies, building materials, and permanent markers. Some of these compounds can have adverse short and long term health effects and consistently have higher concentrations indoors than outside.
---