Honeywell Ultrasonic Cool Mist Humidifier - Black, HUL535B
Quiet Operation ideal for medium sized rooms
Regular:

$49.95
Price: $40.95
You Save: $9.00 (18% Off)
- View Video On This Product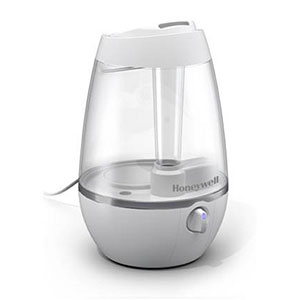 Ultrasonic humidification technology
Ultra-quiet operation
No filters required
Provides soothing, visible cool mist
Variable output settings
Directional mist outlet
Large tank opening for easy filling & cleaning
Auto shut off when empty
The Honeywell Ultrasonic Cool Mist Humidifier is an excellent addition for those searching to establish a pristine breathing environment. Providing the height of convenience and efficiency, this humidifier by Honeywell features an ultra-quiet operation and an auto shut-off function when the tank is empty. Accessibility has also been addressed with the utilization of a large tank opening that allows for easy filling and cleaning. The Honeywell Ultrasonic Cool Mist Humidifier discharges visible cool moisture in multiple output settings. This humidifier is an ideal fit for medium sized rooms and is capable of running for 24 uninterrupted hours per filling.
Room Size: Medium
Run time per filling: up to 24 hours
Tank Capacity: 1 gallon
1.5 gallon output per day
Product Weight: 3.04 lbs
Product Dimensions (LxWxH): 8.57 x 8.15 x 13.03 in.
Available in White and Black
2 year limited warranty

Helps Temporarily Relieve Dry Air Discomforts
Provides an efficient solution for counteracting the effects of dry harsh winter air by adding essential moisture to any room. Soothe dry skin with added moisture so hands and lips are no longer dry.

Helps temporarily Relieve Congestion and Cough
Maintaining an indoor humidity level between 40-60% can reduce the survival of flu viruses on surfaces and in the air.*
*Studies have shown that keeping indoor air at an RH level of 40-60% reduces survival of flu viruses on surfaces and in the air compared to lower RH levels.

Helps You Breathe Better and Sleep More Comfortably
Comfortable humidity helps purify the air and keep throat and nasal passages hydrated. This can help you breathe better and sleep more comfortably.

Helps Protect Wooden Furniture, Floors and Musical Instruments
Low humidity causes wood to lose moisture and shrink. Extreme changes can causes warping and cracking.

Helps Keep Indoor Plants Healthy

Helps Reduce Static Electricity
Static electricity is even more active when the air is dry, especially in the cold months when people turn on their heat. Returning moisture to dry air assists in reducing static shocks and static cling.
Q: How do I clean my Honeywell Ultrasonic Cool Moisture Humidifier?
A:
For ultrasonic humidifiers, periodic cleaning of the nebulizer will help it perform at its best. The nebulizer, which is a round disc found in the base of the unit, vibrates at ultrasonic speed to create mist. Over time, minerals from your water may collect on the nebulizer causing it to slow to a pace that is not enough to create mist.
Turn off and unplug the humidifier. Empty water from the tank and base of the unit. Fill the base with undiluted white vinegar (just enough to cover the nebulizer) and let it soak for at least 20 minutes. If you see a strong mineral build up, you may want to let it soak longer. Do not run the humidifier with vinegar in it. Gently wipe nebulizer and reservoir area with a soft cloth to remove the mineral deposits. Empty the vinegar and rinse the base with water until the smell of vinegar is gone.
---
If you are interested in ordering a large quantity of items you may qualify for volume pricing discounts. Volume Discount Pricing is a great way for customers to save big on large, bulk orders of most items available in our store. Please
send a bulk order request
to our friendly sales staff so they may create a quote and provide personal service for your order! You will receive a response within 1-2 business days and our office hours are Monday through Friday, 8am-5pm CST.
We make it as easy as possible to ensure you get the lowest prices available:

Let us know what products & the quantities you are interested in.
Get a detailed quote from a dedicated sales rep.
Our warehouse ships directly to you.
You enjoy the savings & are now a preferred customer.

Send A Request Now

Direct From Warehouse Pricing
Customer Reviews
Write A Customer Review
4
Average score based on 1 review
Honeywell Ultrasonic Cool Mist Humidifier - Black, HUL535B Reviews
Works great so far
Reviewed: 12/18/2020 by Gabriel Voiles
Works great so far. Don't find it to be loud at all, as some have complained about.
Write A Review For This Product