Honeywell N95 Flatfold Disposable Respirators, 20 Masks - DF300N95BX
You Save: $12.00 (31% Off)
Designed to fit all faces comfortably: and accommodate the user's facial movements.
Multilayered absorption media with a smooth inner lining for added comfort.
95% filter efficiency against solid and liquid particulates, excluding oils.
Latex free woven head straps are welded for a secure fit.
Concealed: adjustable nose clip and soft foam nose cushion provide a custom secure seal.
Humidity and moisture resistant filter media that repels moisture for a longer lasting respirator.
Reliable: durable design that lasts throughout the workday.
Non-allergenic, latex-free design.
Packaged to maintain integrity of product in work environment.
Masks are all bagged into a single open ended plastic sleeve to protect from exposure and contamination when the box is opened.
This box includes 20 flatfold molded cup face masks.
Product Features
NIOSH approved DF300 Series Flatfold Disposable Respirators are made with a multilayered absorption media that repels moisture and features a smooth inner lining for added comfort. Honeywell NIOSH-Approved N95 respirator face masks provide protection against airborne particulates with a 95% filter efficiency against solid and liquid particulates in the air (excluding oils). Each package includes (twenty) disposable N95 respirators.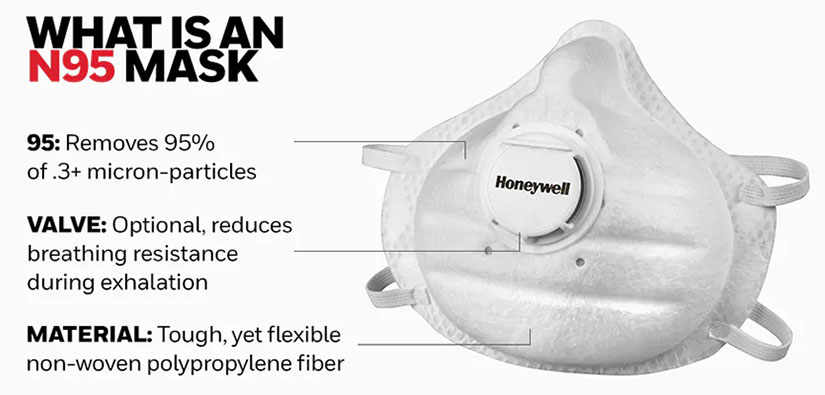 N: This is a Respirator Rating Letter Class. It stands for "Non-Oil" meaning that if no oil-based particulates are present, then you can use the mask in the work environment. Other masks ratings are R (resistant to oil for 8 hours) and P (oil proof).
95: Masks ending in a 95, have a 95 percent efficiency. Masks ending in a 99 have a 99 percent efficiency. Masks ending in 100 are 99.97 percent efficient and that is the same as a HEPA quality filter.
.3 microns: The masks filter out contaminants like dusts, mists and fumes. The minimum size of .3 microns of particulates and large droplets won't pass through the barrier, according to the Centers for Disease Control and Prevention (CDC.)
Material: The filtration material on the mask is an electrostatic non-woven polypropylene fiber.
Valve: Some disposable N95 masks come with an optional exhalation valve. "The presence of an exhalation valve reduces exhalation resistance, which makes it easier to breathe (exhale,)" according to the CDC.
Product Details
Standards : NIOSH Approved
Filtration Type : N95
Mask Type : Flatfold Molded Cup
Latex Free : Yes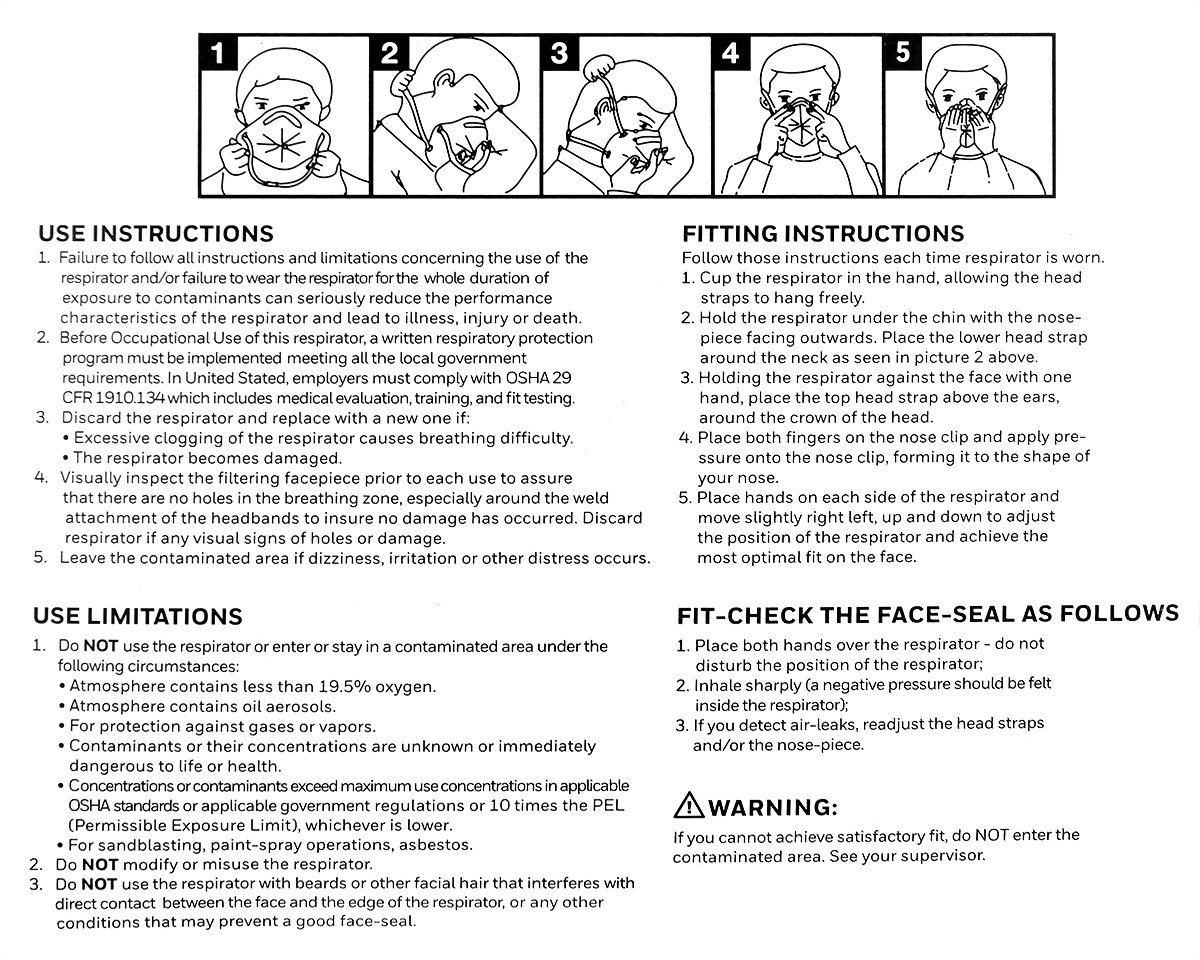 Product Specs
Honeywell N95 Flatfold Disposable Respirators, 20 Masks - DF300N95BX Video
If you are interested in ordering a large quantity of items you may qualify for volume pricing discounts. Volume Discount Pricing is a great way for customers to save big on large, bulk orders of most items available in our store. Please send a bulk order request to our friendly sales staff so they may create a quote and provide personal service for your order! You will receive a response within 1-2 business days and our office hours are Monday through Friday, 8am-5pm CST.
We make it as easy as possible to ensure you get the lowest prices available:
Let us know what products & the quantities you are interested in.
Get a detailed quote from a dedicated sales rep.
Our warehouse ships directly to you.
You enjoy the savings & are now a preferred customer.
Send A Request Now
Honeywell N95 Flatfold Disposable Respirators, 20 Masks - DF300N95BX Reviews
Tiffany P.
August 29, 2023
Honeywell is the best!!
These are the most comfortable masks I have found. They are also great with different face sizes and being foldable is a great option for convenience. I also trust the Honeywell brand for superior quality and safety.
Good product
Arrived fast, good-quality masks.
Honeywell N95 flat fold masks
Comfortable with nice straps
Honeywell N95 flat fold masks
Comfortable with nice straps
Quite comfortable
This is the second time that I have ordered theses. I find them quite satisfactory and will most likely order them again.
Very good masks . They are nice fit for the face and would highly reccomend it
Michael G
December 24, 2022
Third Order of These
Very comfortable. I work out in them with no problem. Im getting another box for this winter 2023. Works for colds, flu and Covid. Protect yourself.
Debra L
December 12, 2022
Feel protected
Feel protected for visit to Europe
Judy T
September 21, 2022
flexible for jaw
I love these compared to the last n95s I got. The previous ones had rubberband style straps which were hard not to snap and were too easy to damage. I also had a sore jaw after wearing the hard paper n95 maks. With these I can talk without the mask restraining my jaw. 4 stars because my girlfriend had a strap snap and it hit her eye.
Sharon V
September 18, 2022
Reduces my worries
I feel better knowing I can wear the same mask as some of my doctors. That assures me this is solid quality and buying from honeywell lets me know it is legitamite.