Honeywell Top Fill Cool Moisture Tower Humidifier with Digital Humidistat, HEV620W
Top Fill Tower Humidifier
Regular:

$109.95
Price: $94.45
You Save: $15.50 (15% Off)
- View Video On This Product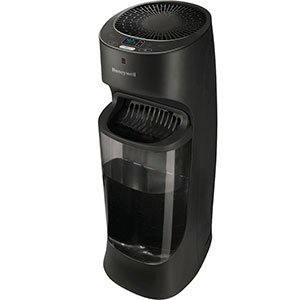 2 easy ways to fill via humidifier or sink
Programmable LED Digital Humidistat
Wicking filter removes minerals from the water helping to prevent white dust
12 Hour Timer
Filter Check Light
Refill & Humidity Reached Lights
Auto Shut-Off when empty
Easy access via slide out filter door
1.7 gallon capacity
Runs up to 24 hours
Suitable for large rooms
Space saving tower design
Moisture Type: invisible cool moisture
Available in black and white
The Honeywell Top Fill Cool Moisture Tower Humidifier blends a series of convenient and efficient features that will allow owners to create a pristine breathing environment. Convenience has been assured with the inclusion of a system that allows for multiple ways of refilling. The addition of a Programmable LED Digital Humidistat will provide owners an accurate measure of the surrounding levels of humidity. A Filter Check Light as well as a Refill and Humidity Reached Light offer owners the visual cues needed for optimal efficiency. The inclusion of an Auto Shut-Off feature solidifies efficiency as it will remind owners when it's time to refill their humidifier. This top fill humidifier features a 1.5 gallon capacity that's capable of running up to 24 hours. The Honeywell Top Fill Cool Moisture Tower Humidifier is available in two colors and includes a 3 year limited warranty.
Model number: HEV620W
Coverage Area: 700 Sq. Ft.
Product Dimensions (LxWxH): 9.84 x 8.66 x 24.72 in.
Product weight: 9.5 lbs
3 Year Limited Warranty
Write A Customer Review
4.8
Average score based on 5 reviews
Reviewed: 06/30/2020 by Sharon Meadows
Lover are humidifier
Reviewed: 11/29/2019 by Holly Trevino
Love this humidifier and being able to set the humidity level, it's very quiet when it cycles on & off and it's wonderful not having to fill the tank every day. Wish I'd found this unit sooner and definitely recommend it.
humidistat HEV620W
Reviewed: 03/10/2019 by Paul Smestad
very good
Reviewed: 10/30/2018 by joyce gammel
Glad that I found a digital one, it's exactly as I expected to replace the other that I had for over 15 yrs
larger humidifier
Reviewed: 01/03/2018 by Gale Grey
I wanted something that was large enough for a good size bedroom. I liked the digital humidistat that is built into the unit, that was the biggest selling point for me. It is a little loud, that's the only thing I don't like. Easy to fill, not too bad to clean.
Write A Review For This Product
If you are interested in ordering a large quantity of items you may qualify for volume pricing discounts. Volume Discount Pricing is a great way for customers to save big on large, bulk orders of most items available in our store. Please
send a bulk order request
to our friendly sales staff so they may create a quote and provide personal service for your order! You will receive a response within 1-2 business days and our office hours are Monday through Friday, 8am-5pm CST.
We make it as easy as possible to ensure you get the lowest prices available:

Let us know what products & the quantities you are interested in.
Get a detailed quote from a dedicated sales rep.
Our warehouse ships directly to you.
You enjoy the savings & are now a preferred customer.

Send A Request Now

Direct From Warehouse Pricing