Honeywell Top Fill Cool Moisture Tower Humidifier in Black, HEV615B
Top Fill Tower Humidifier
Regular:

$89.95
Price: $77.65
You Save: $12.30 (13% Off)
- View Video On This Product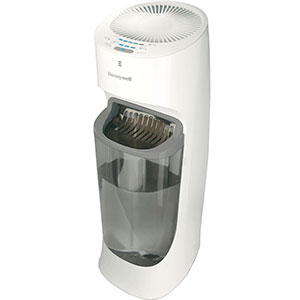 2 easy ways to fill via humidifier or sink
Adjustable LED Humidistat
Filter Check Light
Refill & Humidity Reached Lights
Auto Shut-Off when empty
Easy access via slide out filter door
1.5 gallon capacity
Runs up to 24 hours
Suitable for large rooms
Available in black and white
Moisture Type: invisible cool moisture
The Honeywell Top Fill Cool Moisture Tower Humidifier blends a series of convenient and efficient features that will allow owners to create a pristine breathing environment. Convenience has been assured with the inclusion of a system that allows for multiple ways of refilling. The addition of an Adjustable LED Humidistat will provide owners an accurate measure of the surrounding levels of humidity. A Filter Check Light, Refill and Humidity Reached Light offer owners the visual cues needed for optimal efficiency. The inclusion of an Auto Shut-Off feature solidifies efficiency as it will remind owners when it's time to refill their humidifier. This top fill humidifier features a 1.5 gallon capacity that's capable of running up to 24 hours. The Honeywell Top Fill Cool Moisture Tower Humidifier is available in black or white. This tower humidifier also includes a 3 year limited warranty.
Model number: HEV615B
Coverage Area: 700 Sq. Ft.
Product Dimensions (LxWxH): 9.84 x 8.66 x 24.72 in.
Product Weight: 9.5 lbs
3 Year Limited Warranty

Helps Temporarily Relieve Dry Air Discomforts
Provides an efficient solution for counteracting the effects of dry harsh winter air by adding essential moisture to any room. Soothe dry skin with added moisture so hands and lips are no longer dry.

Helps temporarily Relieve Congestion and Cough
Maintaining an indoor humidity level between 40-60% can reduce the survival of flu viruses on surfaces and in the air.*
*Studies have shown that keeping indoor air at an RH level of 40-60% reduces survival of flu viruses on surfaces and in the air compared to lower RH levels.

Helps You Breathe Better and Sleep More Comfortably
Comfortable humidity helps purify the air and keep throat and nasal passages hydrated. This can help you breathe better and sleep more comfortably.

Helps Protect Wooden Furniture, Floors and Musical Instruments
Low humidity causes wood to lose moisture and shrink. Extreme changes can causes warping and cracking.

Helps Keep Indoor Plants Healthy

Helps Reduce Static Electricity
Static electricity is even more active when the air is dry, especially in the cold months when people turn on their heat. Returning moisture to dry air assists in reducing static shocks and static cling.
Write A Customer Review
5
Average score based on 3 reviews
Convenient and Effective
Reviewed: 07/01/2020 by SirDom
I found one of these on sale at Walmart. I was tired of the small humidifiers that always seem to work for a while then stop. This Honeywell has been awesome. Keeps our large master bedroom well humidified and has been working for months. Might even get another for upstairs.
Very happy with this product
Reviewed: 02/06/2019 by Elizabeth Finn
Believe it or not but we bought this product hoping it would help our cats asthma not mine, the cats! It made such a big difference we bought a 2nd for another part of the house. This product has reduced the frequency to almost none & reduced the severity when she has one. As far as my husband & I are concerned, we didn't realize we would benefit from a humidifier until we got these. Our noses & throat are less dry. And yes, I think its helped my asthma as well.
Small problem easily fixed
Reviewed: 02/28/2018 by Marie Mercier
This is a terrific product, especially with the top fill feature. The only problem occurred after running it for a few days. it stopped. Couldn't figure out why. My husband investigated and found a small hole in the little white float bottle. The leak allowed water to get in and prevented the bottle from rising up to hit the switch contact in the bottom of the tower. He applied a drop of water proof glue/sealer and it has been great ever since. Simple fix!
Write A Review For This Product
If you are interested in ordering a large quantity of items you may qualify for volume pricing discounts. Volume Discount Pricing is a great way for customers to save big on large, bulk orders of most items available in our store. Please
send a bulk order request
to our friendly sales staff so they may create a quote and provide personal service for your order! You will receive a response within 1-2 business days and our office hours are Monday through Friday, 8am-5pm CST.
We make it as easy as possible to ensure you get the lowest prices available:

Let us know what products & the quantities you are interested in.
Get a detailed quote from a dedicated sales rep.
Our warehouse ships directly to you.
You enjoy the savings & are now a preferred customer.

Send A Request Now

Direct From Warehouse Pricing