Honeywell Top Fill Cool Mist Humidifier - Black, HUL570B
Cool visible moisture for medium to large sized rooms
Regular:

$69.95
Price: $54.95
You Save: $15.00 (21% Off)
- View Video On This Product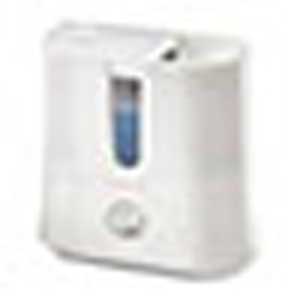 2 easy ways to fill - at humidifier or at sink
Filter free, cool visible mist
Variable output control & Auto shut off when empty
Directional mist outlet rotates 180 degrees
Ultra quiet operation
Visible water window
Wide tank opening; easy to fill, empty & clean
Tank Capacity: 1.25 gallon
Runs up to 36 hours per filling
Moisture Type: Ultrasonic, visible cool mist
Help relieve dry air discomforts with the Honeywell Top Fill Cool Mist Humidifier, specially designed to be easy to fill, use and clean. Its unique removable top fill design offers 2 easy ways to fill the water tank - at the humidifier with a pitcher or remove the tank and fill it at the sink. With ultra-quiet operation, the HUL570 delivers soothing, cool visible moisture to efficiently humidify medium to large sized rooms making it ideal for bedroom use. This Honeywell Humidifier also features a wide tank opening and carry handle to make filling, emptying and cleaning convenient and easy.
Color: Black
Room Size: Medium-Large
Coverage: 300 sq. ft.
Product Dimensions (LxWxH): 13.6 x 6.8 x 13.5 in.
Product Weight: 5.2 lbs.
2 Year Limited Warranty
Write A Customer Review
5
Average score based on 1 review
Love it!
Reviewed: 03/27/2018 by Laura Manthey
Love the fact that you can pour water into it from the front so easy. I cannot be without a room humidifier. Makes it easier to breathe and keeps skin wrinkle free. Honeywell a trusted name in the business.
Write A Review For This Product
If you are interested in ordering a large quantity of items you may qualify for volume pricing discounts. Volume Discount Pricing is a great way for customers to save big on large, bulk orders of most items available in our store. Please
send a bulk order request
to our friendly sales staff so they may create a quote and provide personal service for your order! You will receive a response within 1-2 business days and our office hours are Monday through Friday, 8am-5pm CST.
We make it as easy as possible to ensure you get the lowest prices available:

Let us know what products & the quantities you are interested in.
Get a detailed quote from a dedicated sales rep.
Our warehouse ships directly to you.
You enjoy the savings & are now a preferred customer.

Send A Request Now

Direct From Warehouse Pricing