Honeywell 360 Surround Heater White, HHF360W
Designed to provide all-around warmth
Regular:

$49.95
Price: $40.90
You Save: $9.05 (18% Off)
- View Video On This Product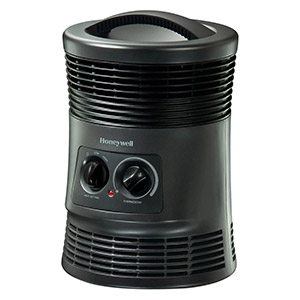 Fan forced wire heating technology with 1500 watt output
360° Surround Heat Technology for all around heat output
Easy to use manual controls
Adjustable thermostat
2 heat settings
Exceeds Industry Safety Standards
360° SafetyTip protection - automatically shuts off when tipped in any direction
Overheat safety protection
Cool Touch Handle
The Honeywell 360 Surround Heater provides energy savings, excellent safety features and the ability to control your comfort all at a reasonable price. Designed to provide all-around warmth, this 360° portable heater is perfect for small to medum sized rooms and offers superior all-around room heating. The safety features include a 360° SafetyTip which shuts the heater off if it is tipped in any direction, overheat protection and a sturdy base. The addition of two heat setting modes and an adjustable thermostat allow for complete control over the heating process.
Safety Matters: A Honeywell Standard for Safe Heating
The Safety Matters program is constantly evolving to ensure that Honeywell Heaters are built with innovative, tried and tested safety features. The Honeywell 360 Surround Heater comes equipped with a series of these safety enhancements. 360° tip over protection means that your heater will promptly shut off when tipped over on its side, back or front. The Surround Heater also includes overheat protection that will immediately turn off the unit once it reaches an unsafe internal temperature. The addition of cool house touching provides a safe means of accessing or maneuvering your portable heater into another room. The sum of these Safety Matters enhancements ensures peace of mind when operating your Honeywell Heater.
New and Improved design delivers a more efficient heat output than previous model
Color: White
Room Size: Small to Medium
Product Dimensions: 9.13 x 9.06 x 12.99 in.
Product Weight: 5.37 lbs.
Maximum Wattage: 1500 watts
3 year limited warranty
Be The First To Write A Review For This Product
If you are interested in ordering a large quantity of items you may qualify for volume pricing discounts. Volume Discount Pricing is a great way for customers to save big on large, bulk orders of most items available in our store. Please
send a bulk order request
to our friendly sales staff so they may create a quote and provide personal service for your order! You will receive a response within 1-2 business days and our office hours are Monday through Friday, 8am-5pm CST.
We make it as easy as possible to ensure you get the lowest prices available:

Let us know what products & the quantities you are interested in.
Get a detailed quote from a dedicated sales rep.
Our warehouse ships directly to you.
You enjoy the savings & are now a preferred customer.

Send A Request Now

Direct From Warehouse Pricing