Honeywell 360 Surround Heater Slate Gray, HHF360V
Perfect for small to mid-sized rooms
Regular:

$49.95
Price: $35.95
You Save: $14.00 (28% Off)
- View Video On This Product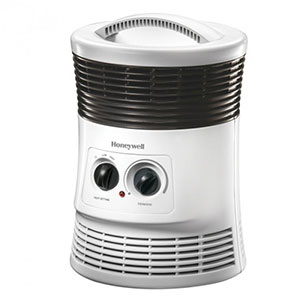 Customer Reviews
Write A Customer Review
5
Average score based on 4 reviews
Honeywell 360 Surround Heater Slate Gray, HHF360V Reviews
Great small heater!
Reviewed: 10/08/2020 by Autumn Hall
We ordered this heater after the previous one died. It lasted several years and heated our small bathroom so we didn't have to heat the whole house early in the morning or late at night. We did not want any other brand. This one is perfect.
Absolutely Amazing
Reviewed: 12/11/2019 by PinkPrincess717
I love the Honeywell 360 Degree Surround Heater! It works great for warming up smaller rooms! I'm able to control the heat settings and adjust the temperature! I like the safety features it has also! If it gets tipped over the heater will turn off and it has overheat protection! It is has a handle on the top which makes it easy to carry! I am impressed! Above and beyond customer satisfaction!
heaterhhf360v
Reviewed: 12/05/2019 by Gloria LaVallee
This will be my 2nd one am still using the 1st one I bought 2 years ago just thought with rising prices on electricity I would like another one to go with it aahope I have the same luck with another one
Great product
Reviewed: 02/27/2018 by Sean Christian
Great item!!! Heats up medium size area like a living room, basement all depends on the space you might need 2 and a bedroom. I would buy another again.
Write A Review For This Product