Honeywell 8,000 BTU Smart Wi-Fi Portable Air Conditioner and Dehumidifier with Alexa Voice Control - HF8CESVWK5
You Save: $250.00 (35% Off)
Save Energy and Money
Honeywell HF Air Conditioners are perfect for targeted spot cooling in rooms measuring 350 sq. ft. You can save huge on electricity bills by cooling only the room you need as opposed to using your whole-house central AC.
Control from Anywhere
Smart Wi-Fi control allows you to easily access your portable ac unit's functions remotely. Whether you're working at the office or on vacation, you'll have full control over your portable air conditioner. Use voice commands to power on, change temperature and adjust fan speed settings.
Fast Installation
All HF Air Conditioners come equipped with a fully packed window kit with adjustable window bracket. A drain pan and drain tube have also been included.
Advanced Safety Features
Thermal overload protection has been added for increased safety and improved peace of mind. A Dual Dust Filtration System will extend product life and performance by keeping the ac unit's internal system clean. All Honeywell HF Air Conditioners are ETL certified to meet applicable & strict U.S. safety standards. ISTA-6 certified packaging provides advanced product protection during delivery. A One Year Warranty with Local U.S. Support Team also comes included. We're here to help.
Easy Maintenance
Filter Clean Alert & Washable Filter are designed to protect from dust and hair. This extends the portable air conditioner's life and overall performance. The filter cleans under a faucet allowing for easy maintenance.
Designed for Comfort
Enjoy simple digital controls with three fan speeds and a 24 hour energy saving timer. A remote control has been included for added convenience.
3-in-1 Air Conditioner
Powerful cooling is available in the spring and summer. An added dehumidifier has been included for humid days (removes up to 60 pints/ 24 hours with continuous drain tube for long unattended operation). A fan has also been added for everyday comfort.
Cooling Capacity
8,000 BTU (ASHRAE-128 Standard) / 5,500 BTU (SACC BTU)
Product Features
Honeywell HF Portable Air Conditioner - Best Selling AC Series
Wi-Fi enabled and compatible with Amazon Alexa voice commands, this Smart Portable AC can be controlled from almost anywhere. Use voice commands to power on, change temperature and fan speed settings without moving away from your busy routine. What else? The Smart Digital Thermostat automatically activates the AC based on pre-set room conditions. A 24-hour timer with daily/weekly scheduling function can be pre-set using the Honeywell Air Comfort App for added convenience and energy savings.
This compact unit is one of the quietest air conditioners in its class and comes with smooth-gliding wheels that make sliding it from room-to-room a breeze. The portable ac unit also comes fully equipped with the usual window kit accessories and as a bonus, window insulation tape, drain pan and drain tube to make life easier for you!
Air Conditioner Mode
Portable air conditioner cools rooms up to 350 sq. ft.
Quiet operation (52 dbA)
R410A environmentally-friendly refrigerant:
Auto-Evaporation System: Collected water from cooling is removed automatically. No bucket, no-drip design (this operation depends on the humidity level at your location)
Fan-Only Mode
Gently circulates air even when air conditioner cooling is not needed
Dehumidifier Mode
Removes excess moisture from air (Ideal for areas with high humidity like basements)
Dehumidification capacity up to 60 pints per 24 hours
Continuous Drain System: Connect a standard garden hose tube to continuously drain water collected when using in Dehumidifying Mode
Portable Design
Easy-to-install window venting kit included with adjustable window bracket (from 26.6 in. to 52 in.)
Exhaust Hose Length: 10.6 in. to 59 in.
Smooth gliding caster wheels easily roll unit from room to room
Smart Climate Control
Automatic Room Settings
Tracks Current Outdoor Weather Conditions
Customized Daily Schedules
Control Multiple Units
Additional Features
Multiple Fan Speeds: High, Medium, Low
241 CFM powerful air flow
Washable filter - helps catch unwanted dust particles in the air
Digital LED display with feather touch controls
Full function remote control with LCD display
Programmable Timer (Set to turn ON/OFF in advance from 1 to 24 hours)
Quick & Easy Installation - all parts included
1-Year Limited Warranty
What's in the Box
1 HF8CESVWK Honeywell Portable Air Conditioner with Dehumidifier, Fan (Black/White)
1 Window Installation Kit with Insulation Tape, Drain Pan & Tube included!
1 Remote Control (batteries included)
1 Owner's Manual & Warranty (with separate App Manual download link)
THINGS TO KNOW BEFORE YOU BUY
Window Bracket Installation:
It is recommended that this unit be installed close to a window for proper venting. Make sure you have a window that can be opened and is at least 26.6" (inches) wide (bracket can extend to 52"). Adjust the window bracket as per width or height of your window and insert the plastic pin to fix at the desired position.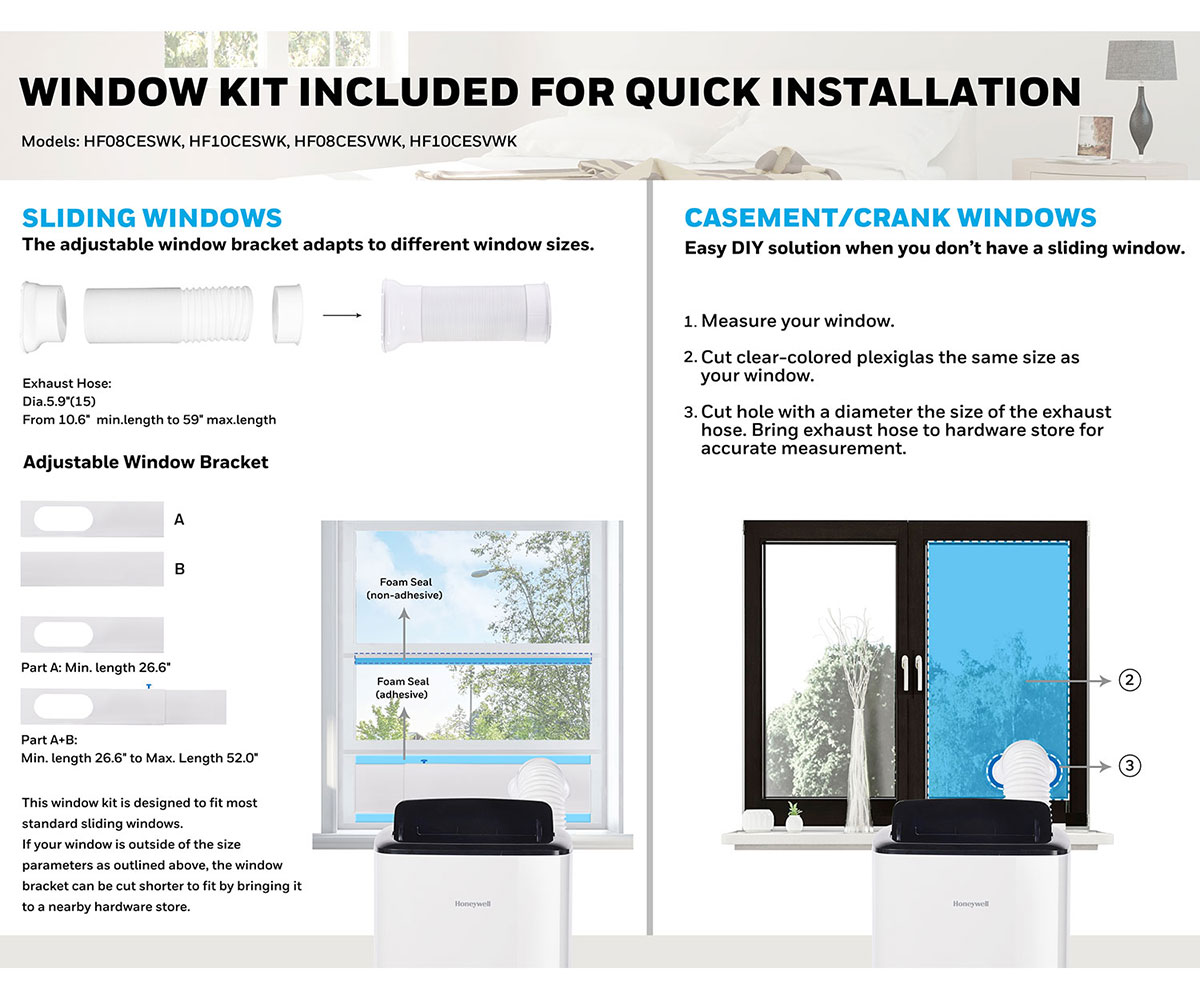 ---
Difference between Air Conditioners & Air Coolers:
Air Conditioner Uses
Air Conditioners use refrigerant to cool and take moisture from the air.
Air Conditioners are created to handle a wide variety of environments to cool.
Air Conditioners change the air temperature in a room.
Air Conditioners will decrease the humidity in the area they are being used.
Air Conditioners work by circulating cooler air to lower temperatures.
Air Conditioners use more energy.
Air Conditioners are generally louder than Air Coolers.
Air Cooler Uses
Air Coolers evaporate moisture to create a cooling effect.
Air Coolers perform best in hot, dry climates.
Air Coolers make a room feel 4 degrees - 6 degrees F cooler.
Air Coolers will increase the humidity in the area they are being used.
Air Coolers work best when circulating outside air throughout your home.
Air Coolers use less energy.
Air Coolers are generally quiet.
What about ventilation?
Portable ACs use either a single hose or dual hose design. In cooling mode, single hose PACs remove hot air from the room, and then expel the hot air out the one hose. In cooling mode, dual hose PACs bring in air from outside through one hose, and expels warm air outside through the second hose. In both cases cold air in cooling mode flows through the unit's vents into the room.
Are there certain types of windows that are not suitable for PACs?
Casement windows are quite unique in design and functionality so PACs do not have window kits that can completely cover the gap for these types of specialty windows.
Can I leave the window screen in during installation?
The screen may not interfere with installation, but for better releasing of hot air out the window, it is better to remove the screen.
How do I know how many BTUs are required to cool my space?
A BTU (British Thermal Unit) is a standard unit of energy that measures the amount of heat per hour an air conditioner removes from a room. The larger the room, the higher the BTU requirement. Below, are some general guidelines. However other factors – such as the number of open doorways, a south-facing window with continuous sunlight, or a room with high occupancy – can require a unit with a higher BTU rating than the average guidelines.
Room Size in sq. ft. BTU
350 8,000
450 10,000
550 12,000
700 14,000
1,000 18,000
Product Details
Product Dimensions: 16.3 x 13.6 x 28 in.
Product Weight: 72.7 lbs.
Model Number: HF8CESVWK5
Product Specs
Product Manuals
Honeywell Smart 8,000 BTU Wi-Fi Portable Air Conditioner with APP/Alexa Control Video
If you are interested in ordering a large quantity of items you may qualify for volume pricing discounts. Volume Discount Pricing is a great way for customers to save big on large, bulk orders of most items available in our store. Please send a bulk order request to our friendly sales staff so they may create a quote and provide personal service for your order! You will receive a response within 1-2 business days and our office hours are Monday through Friday, 8am-5pm CST.
We make it as easy as possible to ensure you get the lowest prices available:
Let us know what products & the quantities you are interested in.
Get a detailed quote from a dedicated sales rep.
Our warehouse ships directly to you.
You enjoy the savings & are now a preferred customer.
Send A Request Now