Honeywell HL14CHESWK Portable Air Conditioner, 14,000 BTU Cooling & Heating (White-Black)
Portable cooling or heating where you need it most
Availability:
This Item is currently
Unavailable - check back soon.
To be notified when this item is back In Stock, enter your Email Address below:

Regular:

$929.95

Price: $745.45
You Save: $184.50 (20% Off)
- View Video On This Product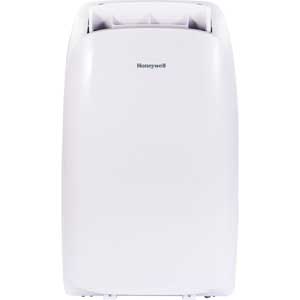 4-in-1 Function: Cooling, Heating, Fan and Dehumidification.
Cooling Capacity: 14.000BTU
Heating Capacity: 11,000BTU
Cools areas up to 700 sq.ft.
Built-in Dehumidifier removes up to 111.6 pints/24 hours*
Easy Access Washable Air Filter Helps catch unwanted dust particles from the air.
Auto-Evaporation System: No bucket to drain.
3 speeds with 24 hour energy-saving programmable timer.
Easy installation kit included, no professional help needed.
Brackets are interchangeable.
Environmentally friendly R410A refrigerant.
Powerful air flow (241 CFM) and quiet operation (52 dbA)
Adjustable Temperature 60F to 90F (16C to 32C)
Energy Efficiency Ratio (EER): 10.3 BTU/(W.h) 3.0 W/W
Digital Control Panel & Remote Control.
Exhaust Hose Length: 14.2" to 47.2"
Exhaust Hose Diameter: 5.9"
Window Bracket Width: Min. 26.6" or 33.1" to 49.6"
Weight: 74 lbs.
1 Year Limited Warranty
Honeywell Portable Air Conditioner - Stay cool. Stay dry.
The HL series is a new addition to the contemporary, stylish and powerful Honeywell Portable Air Conditioners. The HL14CHESWK 14,000 BTU Honeywell Portable Air Conditioner combines 4-in-1 technology into one sleek body, cooling and dehumidifying areas up to 700 sq. ft. It features an environmentally friendly refrigerant, auto-evaporation system, a reliable dehumidifying function as well as a traditional three speed fan-only function. The HL14CHESWK is a convenient portable air conditioner that delivers optimum cooling, dehumidification, heating and fresh ventilation.
The full-function remote control allows you to operate each feature from across the room. Unlike a fixed air conditioner unit, the Honeywell Portable Air Conditioner requires no permanent installation and the smooth-gliding caster wheels provide easy mobility from room to room. What's more, the auto evaporation system allows for hours of continuous operation with no water to drain or no bucket to empty (this operation depends on the humidity level at your location). A special sleep mode setting allows you to control the temperature for comfort during the night. This portable air conditioner comes with everything needed including a flexible exhaust hose and an easy-to install window venting kit. The window vent can be removed when the unit is not in use.
Air Conditioner Mode
14,000 BTU portable air conditioner cools areas up to 700 sq. ft.
Quiet operation (52dbA)
R410A environmentally-friendly refrigerant
Auto-Evaporation System: Collected water from cooling is removed automatically. No bucket, no-drip design (this operation depends on the humidity level at your location)
Fan Only Mode
Gently circulates air even when air conditioner cooling is not needed
Dehumidifier Mode
Removes excess moisture from air (Ideal for areas with high humidity like basements)
Dehumidification capacity up to 111 pints per 24 hours
Continuous Drain System: Connect a drain tube (included) to continuously drain water collected when using in Dehumidifying Mode.
Portable Design
Easy-to-install window venting kit included with adjustable window bracket (from 26.6 in. to 49.6 in.)
Smooth gliding castor wheels easily roll unit from room to room
Additional Features
Quick & Easy Installation-all installation parts included
Air Vents Automatically Open/Close and On/Off
Multiple Fan Speeds: High, Medium, Low
Washable filter-helps catch unwanted dust particles in the air
Continuous Drain System-Drain Tube Included
Digital LED display with soft touch controls
Programmable Timer (Set to turn ON/OFF in advance from 1 to 24 hours)
Full function remote control
1 Year Limited Warranty
What's in the Box
1 HL14CHESWK 14,000 BTU Honeywell Portable Air Conditioner (White/Black)
1 Remote Control (batteries included)
1 Owner's Manual & Warranty
Model Number: HL14CHESWK
Product Dimensions: 18.9 x 15.7 X 31.3 in.
Weight: 74 lbs.
Be The First To Write A Review For This Product
If you are interested in ordering a large quantity of items you may qualify for volume pricing discounts. Volume Discount Pricing is a great way for customers to save big on large, bulk orders of most items available in our store. Please
send a bulk order request
to our friendly sales staff so they may create a quote and provide personal service for your order! You will receive a response within 1-2 business days and our office hours are Monday through Friday, 8am-5pm CST.
We make it as easy as possible to ensure you get the lowest prices available:

Let us know what products & the quantities you are interested in.
Get a detailed quote from a dedicated sales rep.
Our warehouse ships directly to you.
You enjoy the savings & are now a preferred customer.

Send A Request Now

Direct From Warehouse Pricing