Honeywell MN10CESWW Portable Air Conditioner, 10,000 BTU Cooling, with Dehumidifier & Fan (White)
Availability: Sorry, this item has been DISCONTINUED.
You Save: $150.00 (23% Off)
Powerful air flow and quiet operation - Cools rooms up to 350 sq. ft. (Temperature range 61°F to 89°F)
10000 BTU (ASHRAE-128 Standard) / 5500 BTU (DOE+ 2017 Standard)
Energy Efficiency Ratio (EER): 9.0 BTU/(W.h) 2.6 W/W
Auto Evaporation – no bucket to empty (except in areas with high humidity), Long-Lasting, Washable Dust Filter, quick & easy installation
Exhaust Hose Length: 12" to 47"
Exhaust Hose Diameter: 5"
Window Bracket Width: Min. 20" to 47"
Built-in Dehumidifier removes up to 66 pints/ 24 hours with continuous drain option for long unattended operation
3 speeds, feather-touch digital controls, 24 hour energy saving timer & remote control included
1-Year Limited Warranty
Product Features
Honeywell Portable Air Conditioner -Stay cool. Stay dry.
The MN10CESWW 10,000 BTU Honeywell Portable Air Conditioner combines 3-in-1 technology into one compact body, cooling and dehumidifying areas up to 350 sq. ft. It features an environmentally friendly refrigerant, auto evaporation system, a reliable dehumidifying function as well as a traditional three-speed, fan-only function. The MN10CESWW is a convenient portable air conditioner that delivers optimum cooling, dehumidification and fresh ventilation.
The full-function remote control allows you to operate each feature from across the room. Unlike a fixed air conditioner unit, the Honeywell Portable Air Conditioner requires no permanent installation and the smooth-gliding caster wheels provide easy mobility from room to room. What's more, the auto- evaporation system allows for hours of continuous operation with no water to drain or no bucket to empty. This portable air conditioner comes with everything needed including a flexible exhaust hose and an easy-to-install window venting kit. The window vent can be removed when the unit is not in use.
Air Conditioner Mode
Portable air conditioner cools rooms up to 350 sq. ft.
Quiet operation (53dbA)
R410A environmentally-friendly refrigerant
Auto-Evaporation System: Collected water from cooling is removed automatically. No bucket, no-drip design (this operation depends on the humidity level at your location)
Fan Only Mode
Gently circulates air even when air conditioner cooling is not needed
Dehumidifier Mode
Removes excess moisture from air (Ideal for areas with high humidity like basements)
Dehumidification capacity up to 70 pints per 24 hours
Continuous Drain System: Connect a standard garden hose tube to continuously drain water collected when using in Dehumidifying Mode (Drain hose not included)
Portable Design
Easy-to-install window venting kit included with adjustable window bracket (from 19.9 to 47.25 in.)
Smooth gliding castor wheels easily roll unit from room to room
Additional Features
Quick & Easy Installation-all installation parts included
Multiple Fan Speeds: High, Medium, Low
174 CFM powerful air flow
Washable filter-helps catch unwanted dust particles in the air
Digital LED display with feather touch controls
Programmable Timer (Set to turn ON/OFF in advance from 1 to 24 hours)
Full function remote control
1-Year Limited Warranty
What's in the Box
1 MN10CESWW Honeywell Portable Air Conditioner with Dehumidifier & Fan (Black)
1 Remote Control (batteries included)
1 Owner's Manual & Warranty
1 Full Set Easy Window Installation Kit
THINGS TO KNOW BEFORE YOU BUY
Window Bracket Installation:
It is recommended that this unit be installed close to a window for proper venting. Make sure you have a window that can be opened and is at least 20" (inches) wide (bracket can extend to 47"). Adjust the window bracket as per width or height of your window and insert the plastic pin to fix at the desired position.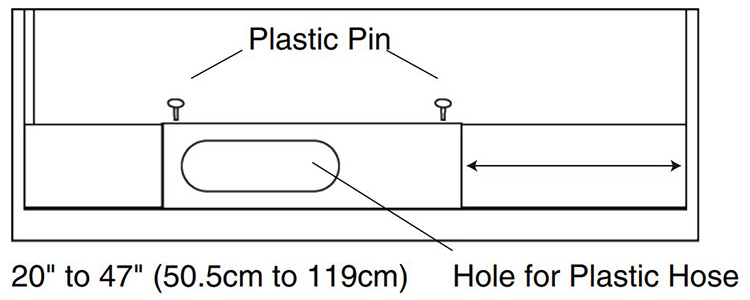 ---
Difference between Air Conditioners & Air Coolers
Air Conditioner Uses:
Air Conditioners use refrigerant to cool and take moisture from the air.
Air Conditioners are created to handle a wide variety of environments to cool.
Air Conditioners change the air temperature in a room.
Air Conditioners will decrease the humidity in the area they are being used.
Air Conditioners work by circulating cooler air to lower temperatures.
Air Conditioners use more energy.
Air Conditioners are generally louder than Air Coolers.
Air Cooler Uses:
Air Coolers evaporate moisture to create a cooling effect.
Air Coolers perform best in hot, dry climates.
Air Coolers make a room feel 4 degrees - 6 degrees F cooler.
Air Coolers will increase the humidity in the area they are being used.
Air Coolers work best when circulating outside air throughout your home.
Air Coolers use less energy.
Air Coolers are generally quiet.
What about ventilation?
Portable ACs use either a single hose or dual hose design. In cooling mode, single hose PACs remove hot air from the room, and then expel the hot air out the one hose. In cooling mode, dual hose PACs bring in air from outside through one hose, and expels warm air outside through the second hose. In both cases cold air in cooling mode flows through the unit's vents into the room.
Are there certain types of windows that are not suitable for PACs?
Casement windows are quite unique in design and functionality so PACs do not have window kits that can completely cover the gap for these types of specialty windows.
Can I leave the window screen in during installation?
The screen may not interfere with installation, but for better releasing of hot air out the window, it is better to remove the screen.
How do I know how many BTUs are required to cool my space?
A BTU (British Thermal Unit) is a standard unit of energy that measures the amount of heat per hour an air conditioner removes from a room. The larger the room, the higher the BTU requirement. Below, are some general guidelines. However other factors – such as the number of open doorways, a south-facing window with continuous sunlight, or a room with high occupancy – can require a unit with a higher BTU rating than the average guidelines.
Room Size in sq. ft. BTU
350 8,000
450 10,000
550 12,000
700 14,000
1,000 18,000
What do I need to know about PAC energy consumption?
AC units demand a lot of energy, so should not be paired on the same electrical outlet with other similar high-consumption devices. Always plug the unit into an available electrical outlet. Never use an extension cord to power your portable air conditioner.
What added benefits does my portable air conditioner offer?
Portable Air Conditioners are easy-to-use handy devices that can be moved around from one place to the other with ease. A portable air conditioner will naturally reduce humidity indoors, which is perfect for hot, humid summer weather. An additional fan mode can help circulate air throughout the room even when you have turned off air conditioning cooling.
Do portable air conditioners consume a lot of energy?
Air conditioners, including portable air conditioners, are complex machines and heavy power users. However, energy savings can lie in your usage of the technology. Choosing to cool down a single room with a portable air conditioner rather than switching on whole-house central air could result in significant cost savings.
Are PACs only beneficial during the summer season?
Depending on the model, portable air conditioners can also convert into dehumidifiers, extracting humidity without the cooling feature. This can be useful in the colder, wetter seasons if your space is prone to mold or mildew. Some Honeywell models are also equipped with a heating element, transforming the unit into a secondary heating source for winter.
Should I remove the insect screen after installing the window kit?
The air flow will work better without the obstruction of the insect screen. We suggest removing the screen.
How can I improve the performance of my portable air conditioner?
Several factors can affect the performance of your portable air conditioner. Foremost is whether your unit's BTU is suitable for your space. An inadequate BTU will not result in cooling. Other factors can affect performance, too: rooms with large open doorways or within open-plan spaces; rooms with poor insulation or high ceilings; south-facing rooms with copious direct sunlight. If any of these are the case, see if you can tighten up the insulation and overall boundaries, and add light-colored window coverings. Another factor is room occupancy. Crowded rooms will be hotter and require a more powerful unit to cool down.
My portable air conditioner is not cooling down my space. Why?
Run through this troubleshooting checklist:
Check your unit's BTU with your square footage and ceiling height.
Determine if your room has many openings – doorways or windows.
Determine if your walls and flooring are poorly insulated.
Does your room receive a lot of strong, direct sunlight?
Is your room often crowded?
Product Details
Product Dimensions: 18.1 x 15.2 x 29.3 in.
Shipping Weight: 71.6 lbs.
Model Number: MN10CESWW
Product Specs
Product Manuals
Honeywell MN10CESWW Portable Air Conditioner, 10,000 BTU Cooling (White) Video
If you are interested in ordering a large quantity of items you may qualify for volume pricing discounts. Volume Discount Pricing is a great way for customers to save big on large, bulk orders of most items available in our store. Please send a bulk order request to our friendly sales staff so they may create a quote and provide personal service for your order! You will receive a response within 1-2 business days and our office hours are Monday through Friday, 8am-5pm CST.
We make it as easy as possible to ensure you get the lowest prices available:
Let us know what products & the quantities you are interested in.
Get a detailed quote from a dedicated sales rep.
Our warehouse ships directly to you.
You enjoy the savings & are now a preferred customer.
Send A Request Now
Honeywell MN10CESWW Portable Air Conditioner, 10,000 BTU Cooling (White) Reviews
Owned this since 2016, still works spendidly
Got this while living in the bay area, CA in 2016 while in an apartment that didn't allow ACs that hang out the window. It was worth the investment. Ive been through many moves since then and it has come to each of my new homes. I'm in WA now and these houses usually come with AC, and so this baby has been cooling my room making my room the coolest place to chill since. I love this machine. Only issue I've had is when it kicks on, its startling me awake at night. But that's mostly my own fault for setting up my bed near the window its hooked into. This thing works in bigger rooms but not as well as intended. I recommend this baby to everyone and all my friends who come to hang out in my room just to cool off.
Turniva
September 11, 2020
Good aircon
Wonderful air con but a little noisy.
Steven Nigg
July 22, 2020
Very Efficient AC
Very easy to set up and get part of the house cooled. Easy to use in all respects. AND reasonably priced.
Robert M Siverling
August 15, 2019
pleased
Everything is great so far. Price and value is great. I would like to review products AFTER they have operated or NOT operated for year after year, but no company provides this: almost any product functions well when it is new. In today's society by the time I would want to give a review after a year or more, the product is no longer made. This AC unit works great.....has been now for about 100 hours. Set up is straight-forward and simple for anyone with low to moderate mechanical skills. For all products, I always desire less high-tech features, but I realize that most people like bells and whistles and the need to have controls that are more complex than the dashboard of a Boeing 747. I wish the warranty would last longer, but I think the one-year is pretty standard for any AC/fan/dehumidifier unit. The Honeywell company seems to always rate high for their products of any kind, and this one is no different, to my knowledge. I called customer help twice for basic questions. The phone was answered in less than a minute, the technician I spoke to was knowledgeable, pleasant and considerate. Thank you.
George in Durham, NC
July 24, 2019
Excellent Service
Purchased a model MN10CESWW A/C unit from Best Buy online. They deliver for free and I'm a little old to carry a 70 lb box home. The unit works very well. But the exhaust hose seemed to have a crimp and a small split in it. So I called the Customer Service number on the box and got a replacement in 3 business days! I rate that Excellent Customer Service. Thank you Carlo!
JOHN KARLIS
December 22, 2016
Honeywell Portable A/C MN10CESWW
Have not used this A/C to date. However I purchased the same exact A/C last year for my spouse. The A/C works Great and cools a 350 square ft. room to her satisfaction. Also the price was reasonable.