Honeywell HL100 Shooter's Safety Eyewear, Amber Frame, Amber Lens, fits over most prescription frames - R-01702
Superb optics and distortion-free vision enhances safety and aiming
Regular:

$13.95
Price: $9.40
You Save: $4.55 (36% Off)
- View Video On This Product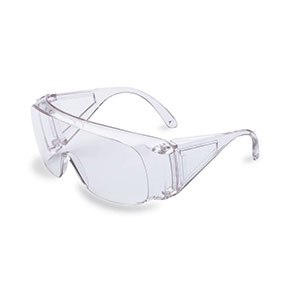 Single wraparound polycarbonate lens provides wide viewing area with excellent coverage
Superb optics and distortion-free vision enhances safety and aiming in the field or on the range
Fits over most prescription eyewear (OTG) and includes indirect vents to help prevent fogging
Amber lens tint can enhance contrast in poorly lit shooting environments or in Foggy/Hazy outdoor conditions
Meets ANSI Z87.1-2010 (High Impact) and is certified to the requirements of the CSA Z94.3 standard; 99.9% UV protection; Made in the USA
Color: Amber Frame, Amber Lens
Size: One Size Fits Most
Honeywell's series of HL100 Shooter's Safety Eyewear is available with a single wraparound polycarbonate lens that provides enhanced viewing capabilities and increased coverage. The inclusion of superb optics and distortion-free vision improves safety while aiming in the field or on the range. This selection of shooter's safety eyewear features an incredible compatibility range that's able to fit over most prescription eyewear (OTG). Ventilation channels have also been added and play an effective role in minimizing fogging. Honeywell HL100 Shooter's Safety Eyewear meets Z87.1-2010 (High Impact) and CSA Z94.3 standards.
Write A Customer Review
5
Average score based on 2 reviews
Reviewed: 03/30/2020 by r.l. baker
same as above...just what I needed really like the amber..
Reviewed: 05/24/2019 by Samantha Wolle
Came exactly as advertised
Write A Review For This Product
If you are interested in ordering a large quantity of items you may qualify for volume pricing discounts. Volume Discount Pricing is a great way for customers to save big on large, bulk orders of most items available in our store. Please
send a bulk order request
to our friendly sales staff so they may create a quote and provide personal service for your order! You will receive a response within 1-2 business days and our office hours are Monday through Friday, 8am-5pm CST.
We make it as easy as possible to ensure you get the lowest prices available:

Let us know what products & the quantities you are interested in.
Get a detailed quote from a dedicated sales rep.
Our warehouse ships directly to you.
You enjoy the savings & are now a preferred customer.

Send A Request Now

Direct From Warehouse Pricing