Honeywell QuietSet Whole Room Tower Fan - Black, HYF260B
Quiet cooling with 5 speed settings
Regular:

$79.95
Price: $52.95
You Save: $27.00 (34% Off)
- View Video On This Product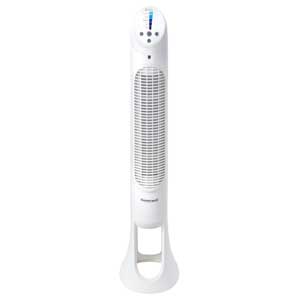 Powerful, precise, whole room cooling
Slim tower fan with modern design
5 settings to adjust to your personal sound and cooling power preferences
Auto-Dim lights reduce to 50% brightness after 15 seconds
Easy touch button electronic QuietSet controls
1, 2, 4 & 8 hour auto shut-off timer
Oscillation for wide area cooling
Control panel auto-dim lights
Remote control with housing on the unit
Sturdy base with a carrying handle
Easy set-up, no tools assembly
Environmentally Friendly - recyclable box, packaging & product
Perfect for cooling a medium to large size room without taking up much space
The Honeywell QuietSet Tower Fan features five speeds that are customizable and range from sleep to power cool settings. The lights on the control panel automatically dim after 15 seconds, making it ideal for nighttime use as well. This slim tower fan has touch-button electronic controls that are easy to use. A remote-control nest has also been included. The slim design of this unit is convenient because it does not take up too much space. The oscillating tower fan has a sturdy and durable base that is easy to setup, requiring no tools.
Combining the very best aspects of strength and silence, the Honeywell QuietSet Whole Room Tower Fan can produce whole room cooling for any number of medium to large sized rooms. This whole room fan includes QuietSet speeds that range from sleep to power cool (5 speeds in total). These speeds can be accessed via Easy Touch Controls on a control panel that automatically dims after 15 seconds of use. The sum of these two features allows for seamless nighttime operation. The slim design of this tower fan paired with its black finish opens a wealth of installation settings. The Honeywell QuietSet Whole Room Tower Fan's inclusion of 5 speed settings and accessibility via touch controls (remote control included) make it a natural addition for any number of rooms in the home setting.
Recommended for any number of areas that require whole room cooling
Color: Black
Product Dimensions (LxWxH): 10 x 10 x 40 in.
Product Weight: 6.81 lbs.
1 Year Warranty
Be The First To Write A Review For This Product
If you are interested in ordering a large quantity of items you may qualify for volume pricing discounts. Volume Discount Pricing is a great way for customers to save big on large, bulk orders of most items available in our store. Please
send a bulk order request
to our friendly sales staff so they may create a quote and provide personal service for your order! You will receive a response within 1-2 business days and our office hours are Monday through Friday, 8am-5pm CST.
We make it as easy as possible to ensure you get the lowest prices available:

Let us know what products & the quantities you are interested in.
Get a detailed quote from a dedicated sales rep.
Our warehouse ships directly to you.
You enjoy the savings & are now a preferred customer.

Send A Request Now

Direct From Warehouse Pricing