Honeywell El Capitan Electric Mountain Bike, Grey - 98002
Price:
$1,699.95
$1,999.95
You Save: $300.00 (15% Off)
Shimano 9 Speed Drivetrain
180 mm Shimano Disc Brakes
Powerful 500W Geared Hub Motor
High Capacity Integrated Panasonic Battery
High Performance Suspension
High-Tech LCD Smart Display
Sleek & Comfortable Seat
Product Features
The ideal mix of high-end design and affordability in electric mountain bikes, the El Capitan features many of the exciting benefits of its upscale wheeled siblings for cost-conscious riders. Packing a removable high-capacity frame integrated battery and a powerful 500W motor, this electric mountain bike gives you the power you need to tackle a longer ride. The motor also makes those challenging uphill rides a breeze. With five available levels of pedal assist up to and including 100% powered, you can customize your effort level to balance athletic effort and smooth, enjoyable cruising in the great outdoors.
The trail may be tough, but Honeywell Mountain E-Bikes are tougher. Built to excel in nature no matter how challenging the terrain, these electric mountain bicycles make every path a pleasure. You'll love the durable construction, the versatile design, and the way these mountain e-bikes make the forest your new favorite highway.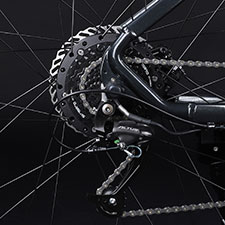 Shimano 9 Speed Drivetrain
The built-in 9 speed gear offers the torque you need to tackle uphill climbs and maintain top speed pedal authority without breaking a sweat.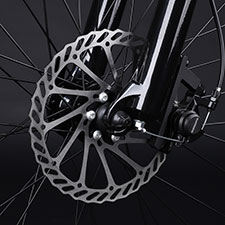 100 mm Shimano Disc Brakes
Crafted with sturdy, responsive 180mm mechanical disc brakes, you can ride with complete peace of mind, even on steep or winding trails.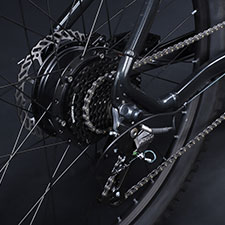 Powerful 500W Geared Hub Motor
The 500W geared hub motor gives you the power to make your smooth, enjoyable ride even better with the flick of a switch: ideal for the return trip after a long ride.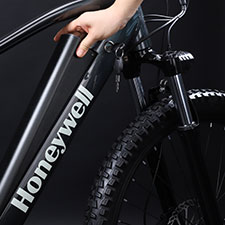 High Capacity Integrated Panasonic Battery
The frame integrated 48V 9.6Ah Panasonic battery offers superior performance and longevity, along with a removable design for easy charging.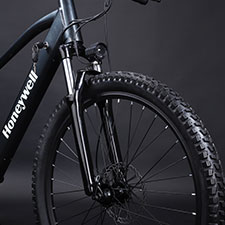 High Performance Suspension
The front suspension fork is designed with 100mm of travel, keeping a bumpy road from disrupting your ride. The upgraded thru-axle also delivers enhanced steering control for a smoother overall ride.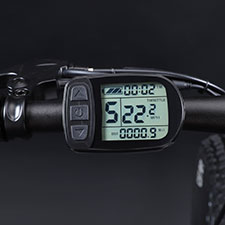 High-Tech LCD Smart Display
The waterproof backlit LCD smart pedal display instantly displays remaining charge, speedometer, odometer, assist level, and more.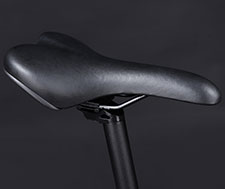 Sleek & Comfortable Seat
While this sporty electric mountain bike seat may have been built for performance, it's also comfortable on longer rides.
Your Honeywell e-bike is valid for return within 14 days from the date of delivery. In order to process a valid return, you need to contact us to obtain written approval and a pre-paid shipping label. Please note that any products sent back to us without approval shall be rejected and returned to you at your own cost.
Return Conditions
The bike must be in brand new condition (not defective or damaged) for the return authorization to be approved. We cannot accept returns on bikes with more than 5 miles on the odometer.
Returns can only be made with the original packing materials and must be safely packed. Damaged product returns may result in additional fees.
We will need photos or video of the bike's condition and bike packaging before we process your return.
You are responsible for paying any return shipping fees plus a 25% restocking fee on any bike return. Your purchase price, less the actual shipping fee and restocking fee, will be refunded to you.
Purchased Products that are in stock but have not yet shipped shall be subject to a 10% processing fee. We cannot change, intercept, or cancel orders that have already shipped. If you refuse delivery, we will treat your order as a return if it arrives back to us, and issue a refund for the purchase price less the actual shipping cost and the restocking fee.
Refunds will be issued within 2 weeks of receipt of the item returned.
How far can I go on the ebike on a full charge?
Your e-bikes can travel up to 40 miles on a single full charge of the battery. However, the range may vary depending on elevation, speed, assistance level, rider weight, headwind and ambient temperature, tire type and pressure, road condition etc.
What type of throttle is used on the ebike?
Your electric bike is equipped with a thumb throttle, and the throttle can be activated from a complete stop.
Can I use the throttle the entire ride?
Yes, you can use the throttle the entire ride but it will impact how long the battery will last. Throttle powered only usually gets you 20-30 miles on a full charge.
Is the battery removable?
The battery is removable so you can easily charge it on or off the bike.
How long does it take to charge the battery?
A full charge usually takes approximately 4-5 hours.
How long does the ebike battery last?
Battery typically lasts 5 years until start losing some of its efficiency, however it also depends on how much you use the bike and the way you take care of your battery. A battery can still deliver at least 80% of the original capacity after 800 charges. Please learn more about battery charging, care and storage from the bike's user manual.
How fast can this e-bike go?
Your e-bike can assist you up 20MPH (32 km/h) with throttle or pedal assistance. Honeywell bikes are considered Class 2 electric bikes.
Product Details
Frame: 6061 Aluminum Alloy
Brake Calipers: Shimano Tourney TX805
Brake Levers: Aluminum Alloy Comfort Grip Levers with Motor Cutoff Switch
Brake Rotors: Shimano Mechanical Disc Brake, 180mm Rotors
Fork: 28.6mm threadless straight steerer; 100mm of travel
Rear Derailleur: Shimano 9 Speed
Chain: KMC TEC
Crankset: 40T, 170 mm Forged Alloy
Kickstand: Included Rear Mount
Headlight: LED Light Included
Taillight: Optional
Mud Guard: Optional
Rear Rack: Optional
Tires: CST 27.5 x 2.4 in.
Weight Capacity: 300 lbs.
Weight: 48 lbs.
Electronics
Motor: 500W Brushless Rear Hub Motor
Battery: Panasonic 48V 9.6 Ah Lithium-Ion
Charger: 48V, 2Ah Fast Charger Operates on 100V-240V AC Power Outlets
Display: LCD Smart Display
Range: Up to 40 Miles*
Speed: Up to 20 MPH on Pedal Assist or Throttle
Drive Mode: Thumb Throttle
Pedal Assist: 5 Levels
Controller: 48V Controller Integrated with Frame
Sensors: Cadence Sensors
*Range may vary depending on elevation, speed, assistance level, rider weight, headwind and ambient temperature, tire type and pressure, road condition etc.
Product Specs
Product Manuals
Honeywell El Capitan Electric Mountain Bike, Grey Video
If you are interested in ordering a large quantity of items you may qualify for volume pricing discounts. Volume Discount Pricing is a great way for customers to save big on large, bulk orders of most items available in our store. Please send a bulk order request to our friendly sales staff so they may create a quote and provide personal service for your order! You will receive a response within 1-2 business days and our office hours are Monday through Friday, 8am-5pm CST.
We make it as easy as possible to ensure you get the lowest prices available:
Let us know what products & the quantities you are interested in.
Get a detailed quote from a dedicated sales rep.
Our warehouse ships directly to you.
You enjoy the savings & are now a preferred customer.
Send A Request Now
Honeywell El Capitan Electric Mountain Bike, Grey Reviews
Loving it so far, well built
This is a well built bike, frame to wheels. Only had it for a day but time will tell as to how the rest performs. Wish the instructions were a bit more details as it looks like it was translated from Google Translate. I know on the display there is a km/h display LED but how does one change it to km/h as we are in Canada.
So far so good!!!
Just got my El Capitan.... pretty excited!! Assembly was very easy and bike looks and feels AMAZING!!!! Just plugged in to charge for first 8 hours... if it works as good as it looks going to great!!! Will update if opinion changes
El Capitan - Great Bike
We just bought two of these bikes. So far very impressed. Easy to put together, good looking bike and fun to ride. I am 6 and my wife is 5 4 and the bike size seems great for both of us. Did our first 20km ride yesterday. Seat is comfortable, love the Power Assist and the Throttle Feature. We rented a couple of higher end ebikes previously and like the Honeywell better! I had a couple of questions while putting bike together and emailed the support line on a weekend. Responses back in 10 minutes. Fantastic. One comment regarding the handlebars. There are 4 screws provided which we found difficult to get all 4 firmly attached as they were just barely long enough to catch. I ended up buying some metric bolts M5 .80 x 25 and they worked perfectly. That would be my one suggestion to Honeywell to revisit the bolt length. Battery life is perfect for what we need as a couple but I hope that Honeywell will offer a 700W in the future for some of my longer trips in the mountains.
Awesome Bike!
Impressive styling & engineering. Added a 450mm seat post & 110mm x 60° stem to fit my 63 frame. Doesn't look like an ebike + the light weight is a bonus. Very well put together w/decent components...assembly took 20 minutes. 1x9 drivetrain is ideal...I'd like to see hydraulic brakes. Can't beat El Capitan for the price...nicely done Honeywell!
Ben Klop
January 21, 2022
Sweet ride
Have never heard of Honeywell making electric bikes until recently. Everything came exactly as I imagined. I'm getting pretty good mileage from the battery. I really dig the way it looks too. A lot of e bikes don't pass the eye test in looks. This thing just looks and feels sharp. I'm enjoying it so far. Might get a dasher for my wife who walks to work