Honeywell Carmel Ceiling Fan, Brushed Nickel Finish, 48 Inch - 50196
Reversilbe California Redwood/Mendoza Redwood Blades
Regular:

$169.95
Price: $146.95
You Save: $23.00 (14% Off)
- View Video On This Product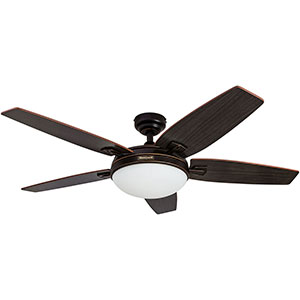 Indoor
Finish: Brushed Nickel
Mounting Options: 3 Position Tri-Mount
Remote: Yes
Light Type: Integrated Globe
Base + Bulb: E12/B10 (w/ 3x 40 watt bulbs included)
Room Size: 12 ft. x 12 ft. to 18 ft. x 18 ft.
Number of Blades: 5
Blade Finish: Cimmeron & Ironwood
Reversible Blades: Yes
Blade Pitch: 12°
Style: Contemporary
Motor: 3 Speed Reversible
Limited Lifetime Warranty
Keep your space cool with the classic look of the Honeywell Carmel Indoor Ceiling Fan. This ceiling fan boasts a warm design that's capable of complementing any number of spaces. Stay cool during the summer months by hanging it in living areas or family rooms. Reverse the motor during the winter months to stay warm. This 48 in. ceiling fan is energy efficient and easy to install. You'll be enjoying the comfort of cool or warm air in no time! The Honeywell Carmel Indoor Ceiling Fan comes with three different mounting options.
Write A Customer Review
5
Average score based on 1 review
Low ceilings?
Reviewed: 09/17/2020 by Keri Porter
If you don't like the look of a flush mount but have low ceilings, this is the fan for you. We have 8 ceilings and a kid with a loft bed and it is not a problem. I initially bought one for a room we were remodeling and then they went out of stock. I requested an email be sent to me so I could buy this same one for all of our other rooms we are redoing. As soon as it came back in stock I ordered the remaining 3 I needed for our house. Very very happy with my purchase.
Write A Review For This Product
If you are interested in ordering a large quantity of items you may qualify for volume pricing discounts. Volume Discount Pricing is a great way for customers to save big on large, bulk orders of most items available in our store. Please
send a bulk order request
to our friendly sales staff so they may create a quote and provide personal service for your order! You will receive a response within 1-2 business days and our office hours are Monday through Friday, 8am-5pm CST.
We make it as easy as possible to ensure you get the lowest prices available:

Let us know what products & the quantities you are interested in.
Get a detailed quote from a dedicated sales rep.
Our warehouse ships directly to you.
You enjoy the savings & are now a preferred customer.

Send A Request Now

Direct From Warehouse Pricing