Honeywell Table Top Water Purifier & Dispenser, Black - HWP2012B
Powerful filtration system helps to reduce bacteria commonly found in water
Regular:

$749.95
Price: $703.45
You Save: $46.50 (6% Off)
- View Video On This Product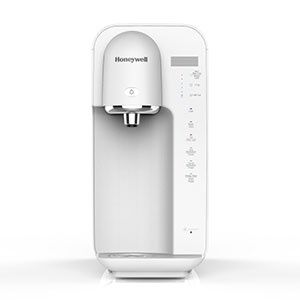 Temperatures: Cold and Room
Choose between 1 cup (250 cc), half a cup (125 cc) or nonstop flow (for 1 minute) with just the push button
Energy Saving Digital Sensor
Filters last approximately 4 months
Voice Navigation
Auto inner sterilization
Removes 99.97% of bacteria commonly found in water (E. Coli, Staphylococcus aereous, Pseudomonas aeruginosa)
Removes 99.97% of toxic metals such as lead, copper, chromium, arsenic and many others
Removes 99.97% of chlorine (taste and odor)
ETL Certified
3-year limited manufacture's warranty
The Honeywell HWP2012B 15-Inch Table Top Water Purifier Dispenser features a digital control panel to access room and cold temperature water with the push of a button. This water purifier dispenser includes a powerful filtration system that greatly reduces the amount of Bacteria commonly found in water (E.coli, Staphylococcus aureus and Pseudomonas aeruginosa), Toxic Metals (lead, copper, chromium, arsenic and others) and Chlorine (taste and odor). The filter of this top water purifier dispenser has been increased to include 317 gallons or approx. 4 months depending on water quality and usage. This tabletop water purifier automatically dispenses a full (250 cc) or half glass (125 cc) of water. Dispense a continuous flow for 60 seconds or simply dispense on demand. A Voice Navigation Guide will provide owners with difficult eyesight a simple means of accessing their water purifier dispenser. Reduce energy output with this unit's inclusion of an Energy Saving Mode. The Honeywell 15-Inch Table Top Water Purifier Dispenser is ETL Certified and comes with a 3-year limited manufacturer's warranty.
Model Number: HWP2012B
Type: Table Top
Temperatures: Cold and Room
Body Color: Black
Child Lock: Yes
LED: Yes
Product Dimensions: 7.09 x 16.14 x 14.96 in.
Be The First To Write A Review For This Product
If you are interested in ordering a large quantity of items you may qualify for volume pricing discounts. Volume Discount Pricing is a great way for customers to save big on large, bulk orders of most items available in our store. Please
send a bulk order request
to our friendly sales staff so they may create a quote and provide personal service for your order! You will receive a response within 1-2 business days and our office hours are Monday through Friday, 8am-5pm CST.
We make it as easy as possible to ensure you get the lowest prices available:

Let us know what products & the quantities you are interested in.
Get a detailed quote from a dedicated sales rep.
Our warehouse ships directly to you.
You enjoy the savings & are now a preferred customer.

Send A Request Now

Direct From Warehouse Pricing