Honeywell LED Adjustable Metal Desk Lamp with Touch Controls - HWT-01A
You Save: $100.00 (33% Off)
Close to Natural Light: The desk lamp features a full-spectrum light source with a CRI ≥95, ensuring accurate color reproduction and a comfortable environment for your eyes.
Flexible and Extendable Lamp Arms: The lamp arms can be rotated 270°, 120°, and 180°, and extended up to 24.3 inches, allowing for easy customization of angles, positions, and light directions.
Focusing Light: The 85mm small round lamp head provides bright and focusing light without obstructing the view.
Eye-Friendly: The desk lamp simulates the soft sunlight. It does not produce blue light, glare, or flicker, which can be harmful to your eyes.
Product Features
Comfortable and Flexible Lighting
This Honeywell Desk Lamp features a full-spectrum light source with a CRI ≥95, ensuring a comfortable environment for your eyes. The ABS light material on the lamp head creates a soft effect like the morning sun. The desk lamp also features a circular joint design for outstanding flexibility, with a 270° rotating lamp head, a 120° rotating base, and a 180° adjustable metal arm that can also be extended up to 24.3 in. This makes it easy to customize the light to your specific needs, whether you're working on a small project or need to light up a large area.
Durable and Long-lasting Design
Unlike plastic lamps, this Honeywell Desk Lamp is crafted from high-quality aviation aluminum alloy, offering both a durable and sleek look. With a weighted base, the lamp guarantees stability and prevents accidental tipping. Additionally, the aluminum alloy construction ensures superior heat dissipation, enabling the lamp to provide over 30,000 hours of continuous use.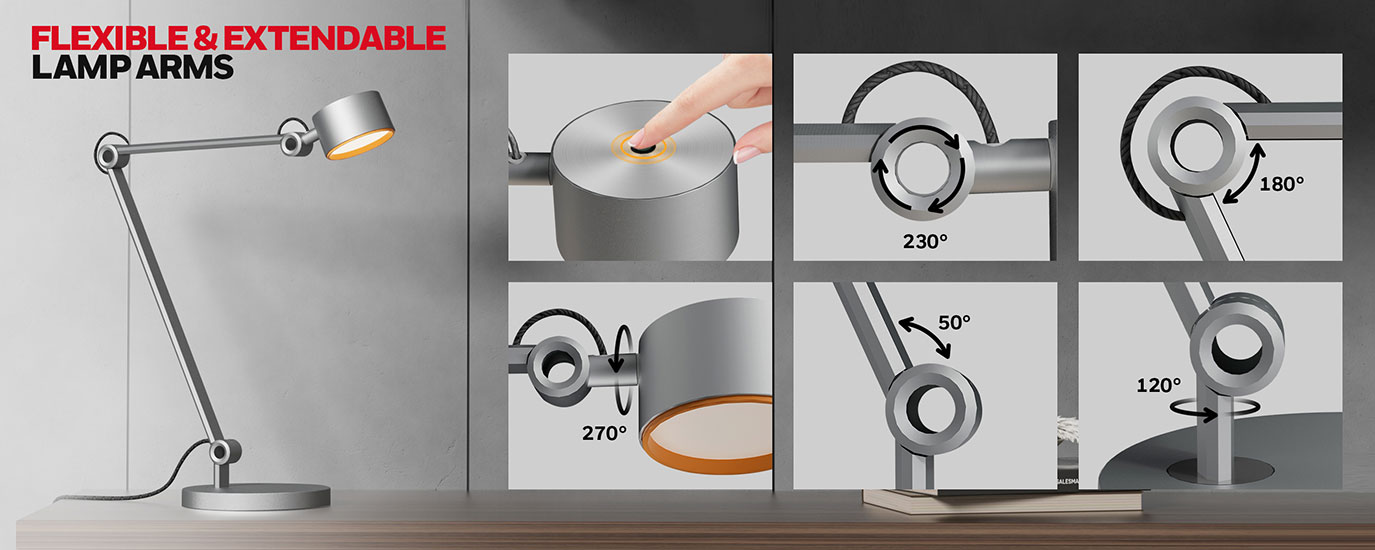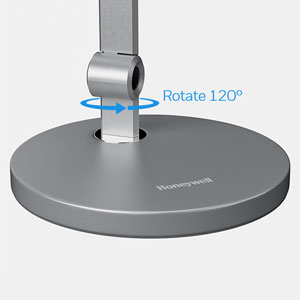 120° Rotation
This LED Desk Lamp can adjust the lighting range 120° left and right according to the needs of daily use.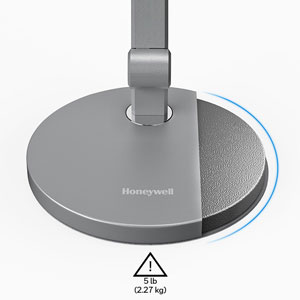 Stable Disc Lamp Base
The 5-pound disc base keeps the desk lamp firm on the table, so that it doesn't tip over easily.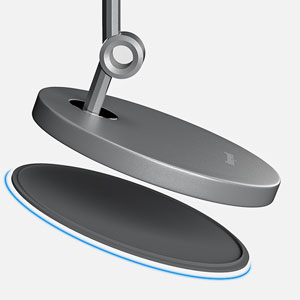 Anti-Slip Silicone Mat
The bottom anti-slip silicone mat prevents the desk lamp from slipping and protects the desktop from scratches.
Product Details
Product Dimensions: 17.32 x 7.08 x 18.5 in.
Product Weight: 5 lbs.
Wattage: 8 Watts
Voltage: 110 Volts
Light Direction: Adjustable
Batteries Required: No
Luminous Flux: 500 Lumens
Bulb Features: Dimmable
Color Temperature: 4000 Kelvin
Coloring Rendering Index (CRI): 95.00
Average Life: 30000 Hours
Product Specs
If you are interested in ordering a large quantity of items you may qualify for volume pricing discounts. Volume Discount Pricing is a great way for customers to save big on large, bulk orders of most items available in our store. Please send a bulk order request to our friendly sales staff so they may create a quote and provide personal service for your order! You will receive a response within 1-2 business days and our office hours are Monday through Friday, 8am-5pm CST.
We make it as easy as possible to ensure you get the lowest prices available:
Let us know what products & the quantities you are interested in.
Get a detailed quote from a dedicated sales rep.
Our warehouse ships directly to you.
You enjoy the savings & are now a preferred customer.
Send A Request Now