Honeywell Dasher Foldable Lightweight Electric Commuter Bike, Dark Grey - 98005
Price:
$1,399.95
$1,699.95
You Save: $300.00 (17% Off)
Durable Magnesium Frame
Dependable Braking System
Dual-Suspension Design
High-Tech Backlit Display
Easy-Fold Frame
Visibility and Storage
Product Features
Forged in lightweight, durable magnesium, the frame of this foldable electric bike gives you the consistent performance you need from a cycle without compromising convenience and portability. The patented Swing Arm folding design avoids the wear and tear of bi-fold travel bike imitators, offering superior strength over time. The battery is built into the frame. This allows for a cleaner, more compelling silhouette. The Dasher Electric Bike makes for an excellent companion for exploring the city, or for easing the usual on-foot commute to work. You'll love how smooth it rides and how easily it travels: simply fold and tuck it into the trunk of a car for more distant trips.
The open road will always have plenty of room available for riders. The same cannot always be said about your storage and cargo situation. Honeywell Foldable E-bikes deliver the same quality performance as their solid-frame counterparts, all with a unique swing-arm folding design that allows them to fit virtually anywhere. Foldable electric bikes are perfect for e-bike riders incorporating small-space living into a go-big lifestyle.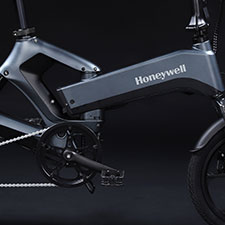 Durable Magnesium Frame
Lighter and stronger than aluminum, includes a removable built-in frame battery for storing and converting physical pedal energy while pedaling.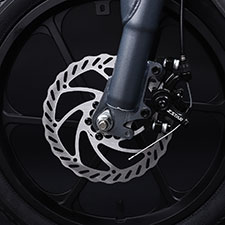 Dependable Braking System
Crafted with sturdy, responsive 160mm Mechanical disc brakes, you can ride with complete peace of mind, even on a crowded city street.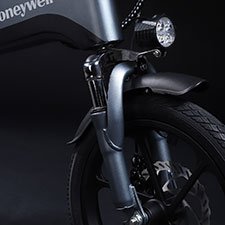 Dual-Suspension Design
With suspension built into both the front and rear of the bike frame, the Dasher offers a smooth ride across all terrain types.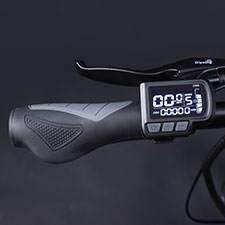 High-Tech Backlit Display
The waterproof backlit LCD handlebar display instantly shows remaining charge, speedometer, odometer, pedal assist level, and more.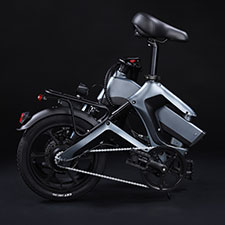 Easy-Fold Frame
The Dasher incorporates a "swing arm" design that's durable and resists wear and tear over time, folding in seconds for easy transport.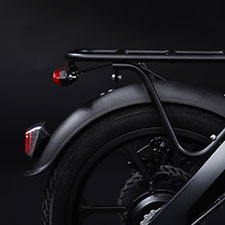 Visibility and Storage
The Dasher is equipped with a roomy rear rack for securing cargo, as well as rear lighted brake and turn signal for safe riding.
Your Honeywell e-bike is valid for return within 14 days from the date of delivery. In order to process a valid return, you need to contact us to obtain written approval and a pre-paid shipping label. Please note that any products sent back to us without approval shall be rejected and returned to you at your own cost.
Return Conditions
The bike must be in brand new condition (not defective or damaged) for the return authorization to be approved. We cannot accept returns on bikes with more than 5 miles on the odometer.
Returns can only be made with the original packing materials and must be safely packed. Damaged product returns may result in additional fees.
We will need photos or video of the bike's condition and bike packaging before we process your return.
You are responsible for paying any return shipping fees plus a 25% restocking fee on any bike return. Your purchase price, less the actual shipping fee and restocking fee, will be refunded to you.
Purchased Products that are in stock but have not yet shipped shall be subject to a 10% processing fee. We cannot change, intercept, or cancel orders that have already shipped. If you refuse delivery, we will treat your order as a return if it arrives back to us, and issue a refund for the purchase price less the actual shipping cost and the restocking fee.
Refunds will be issued within 2 weeks of receipt of the item returned.
How far can I go on the ebike on a full charge?
Your e-bikes can travel up to 40 miles on a single full charge of the battery. However, the range may vary depending on elevation, speed, assistance level, rider weight, headwind and ambient temperature, tire type and pressure, road condition etc.
What type of throttle is used on the ebike?
Your electric bike is equipped with a thumb throttle, and the throttle can be activated from a complete stop.
Can I use the throttle the entire ride?
Yes, you can use the throttle the entire ride but it will impact how long the battery will last. Throttle powered only usually gets you 20-30 miles on a full charge.
Is the battery removable?
The battery is removable so you can easily charge it on or off the bike.
How long does it take to charge the battery?
A full charge usually takes approximately 4-5 hours.
How long does the ebike battery last?
Battery typically lasts 5 years until start losing some of its efficiency, however it also depends on how much you use the bike and the way you take care of your battery. A battery can still deliver at least 80% of the original capacity after 800 charges. Please learn more about battery charging, care and storage from the bike's user manual.
How fast can this e-bike go?
Your e-bike can assist you up 20MPH (32 km/h) with throttle or pedal assistance. Honeywell bikes are considered Class 2 electric bikes.
Product Details
Frame: Magnesium Alloy
Brakes: 160mm Mechanical Disc Brakes
Fork: Coil Spring, 50mm of Travel
Stem: Aluminum Alloy, Folding
Kickstand: Included
Headlight: LED Light Included
Taillight: Included
Mud Guards: Included
Rear Rack: Included
Minimum and Maximum Seat Height: 31 to 37 in.
Tires: CST 16 x 1.95 in.
Weight Capacity: 250 lbs.
Weight: 46 lbs.
Electronics
Motor: 400W Brushless Rear Hub Motor
Battery: 480Wh Lithium-ion Battery
Charger: 48V, 2Ah Fast Charger Operates on 100V-240V AC Power Outlets
Display: LCD Smart Display with Backlight
Range: Up to 40 Miles*
Speed: Up to 20 MPH on Pedal Assist or Throttle
Drive Mode: Thumb Throttle
Pedal Assist: 5 Levels
Controller: 48V Controller Integrated with Frame
Sensors: Cadence Sensors
*Range may vary depending on elevation, speed, assistance level, rider weight, headwind and ambient temperature, tire type and pressure, road condition etc.
Product Specs
Product Manuals
Honeywell Dasher Foldable Lightweight Commuter E-Bike, Dark Gray Video
If you are interested in ordering a large quantity of items you may qualify for volume pricing discounts. Volume Discount Pricing is a great way for customers to save big on large, bulk orders of most items available in our store. Please send a bulk order request to our friendly sales staff so they may create a quote and provide personal service for your order! You will receive a response within 1-2 business days and our office hours are Monday through Friday, 8am-5pm CST.
We make it as easy as possible to ensure you get the lowest prices available:
Let us know what products & the quantities you are interested in.
Get a detailed quote from a dedicated sales rep.
Our warehouse ships directly to you.
You enjoy the savings & are now a preferred customer.
Send A Request Now
Honeywell Dasher Foldable Lightweight Commuter E-Bike, Dark Gray Reviews
Awesome
Fits into my trunk and packs a pretty good punch on my commutes downtown. A pretty solid ride all around