Honeywell 16 in. Double Blade Pedestal Stand Fan, Black - HSF1640B
2x blade power whole room cooling
Regular:

$69.95
Price: $52.45
You Save: $17.50 (26% Off)
- View Video On This Product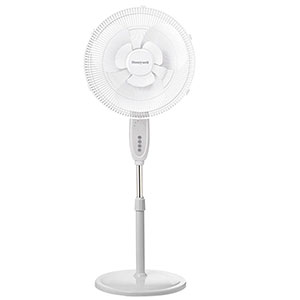 Powerful whole room cooling (Delivers 15% more air volume)
DualAirfx double blade design provides broader cooling power
Three speed settings
Three air flow type settings (Normal, Natural and Quiet)
Adjustable height, up to 48"
Adjustable tilt fan head
Electronic LED Controls
Remote control
1-8 hour auto off timer
Wide Oscillation: Designed for large room use
Removable grille for easy cleaning
Heavy-Duty Stable Base
The Honeywell Comfort Control 16" Double Blade Pedestal Stand Fan provides powerful cooling. This is achieved via a double blade design that provides optimal efficiency and maximum air flow. The addition of an LED control panel will allow owners to seamlessly select between three speed settings and three types of air flow. Customize your cooling experience manually (or with the included remote control) with three types of air flow that include:
Normal: Emits a steady flow of air
Natural: Provides intermittent air that shuffles between hi/low
Quiet: Releases a soothing breeze perfect for nighttime use
An adjustable height (up to 48 in.) and tilting head open a myriad of large room options for owners to explore when integrating this stand fan. The inclusion of three speed settings accessible via easy push button controls will encourage owners to shuffle through their cooling options on a room to room basis. A removable grille simplifies the cleaning process and will have this pedestal fan operating at full capacity. The addition of a 1-8 hour auto off timer adds even more versatility to a stand fan that has a surplus of features.
Recommended for large rooms
Color: Black
Product Weight: 15.21 lbs.
Product Dimensions (LxWxH): 18 x 16 x 48 in.
1 year limited warranty
Write A Customer Review
5
Average score based on 6 reviews
Love these fans.
Reviewed: 06/23/2020 by Michelle Morris
I bought 2 fans and couldn't be happier with their performance. Packaged well and easy to put together. They move the air and provide much needed relief from humidity and heat.
Love my Honeywell Fan
Reviewed: 06/01/2020 by Dean Mapes
Speedy delivery great quality quiet and performs as described maybe even better!!
Reviewed: 05/14/2020 by michael monroe
What does review title mean
No Air cond ughh
Reviewed: 05/10/2020 by ROBERT WEDEBROCK
really cools down air 2-3 degrees at least. Finally a fan I can sleep through and drowns out my neighbor's AC next door
Great product!!!
Reviewed: 08/25/2019 by Pinky1
Just got this fan today. It's great. Quiet, which was very important to me because it was going in our bedroom. It's remote controlled. Great cooling feature. Much better than our old fan. The only negative thing I can see is when you have it oscillate, it automatically tilts up. I want it to oscillate on the tilt I have it on. Don't hesitate to buy this item. I have a fan on in our bedroom 365.
Fan
Reviewed: 06/26/2018 by JOHN BOOTH
Easy assembly, very quiet fan, wish I had this fan after the last hurricane, would have made a big difference.
Write A Review For This Product
If you are interested in ordering a large quantity of items you may qualify for volume pricing discounts. Volume Discount Pricing is a great way for customers to save big on large, bulk orders of most items available in our store. Please
send a bulk order request
to our friendly sales staff so they may create a quote and provide personal service for your order! You will receive a response within 1-2 business days and our office hours are Monday through Friday, 8am-5pm CST.
We make it as easy as possible to ensure you get the lowest prices available:

Let us know what products & the quantities you are interested in.
Get a detailed quote from a dedicated sales rep.
Our warehouse ships directly to you.
You enjoy the savings & are now a preferred customer.

Send A Request Now

Direct From Warehouse Pricing