Honeywell True HEPA Air Purifier with Allergen Remover - Black, HPA100
AHAM CADR (smoke): 100 - recommended room Size 155 sq.ft.
Regular:

$179.99
Price: $139.99
You Save: $40.00
- View Video On This Product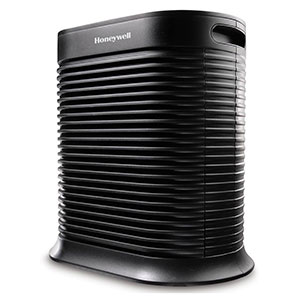 True HEPA captures up to 99.97% of microscopic allergens, 0.3 microns or larger from the air that passes through the filter
Helps reduce odors, VOCs, and certain germs
Activated carbon pre-filter helps reduce unpleasant odors
Easy tap controls, with 3 air cleaning levels plus a Turbo Power cleaning level
Control panel adjustable lighting (bright/dim/off)
2, 4, or 8 hour automatic shut-off timer
Filter replacement indicators
Quiet operation
ENERGY STAR qualified
Designed for medium sized rooms, the Honeywell True HEPA Allergen Remover is energy efficient, compact and effective. It helps capture airborne particles, 0.3 microns and larger, including dust, pollen, mold spores, pet dander and smoke from the air that passes through its filters. Its sleek console design features an activated carbon pre-filter that helps reduce odors and a True HEPA filter that captures up to 99.97% of microscopic allergens, 0.3 microns or larger from the air that passes through the filter.
This Air Purifier has been AHAM Verifide for use in rooms up to 155 square feet
The CADR indicates the volume of filtered air delivered by an air cleaner. The higher the tobacco smoke, pollen and dust numbers, the faster the unit filters the air.
Tobacco Smoke: 100
Dust: 106
Pollen: 100
Color: Black
Product Dimensions: 13.54 x 8.9 x 13.94 in.
Product Weight: 7.74 lbs.
Warranty: 5 Year Limited Warranty
Write A Customer Review
4.6
Average score based on 5 reviews
Not sure I noticed much difference
Reviewed: 04/14/2019 by Johanna Smith
It has only been two months but I'm not sure I noticed my any decrease in allergies.
Excellent!
Reviewed: 03/20/2019 by Lynn Osborne
Love it...very quiet but gets the job done!
Fantastic
Reviewed: 05/03/2018 by A. Madman
Bought one for my bedroom now can't wait to get one for my living room. With two dogs, one cat and one roommate, l sleep much better. Can't wait to see how I feel with one in my living room. Great for apartment living.
Cleans the air great
Reviewed: 01/30/2017 by Ida Jones
It's being used in a bedroom and it works great. Even on low it purifies very well.
Working great for Mom with allergies and COPD
Reviewed: 12/14/2016 by James Jones
Purifier is helping my Mom who suffers from allergies and has COPD. A little loud when on high but still worthy of 5 stars.
Write A Review For This Product
If you are interested in ordering a large quantity of items you may qualify for volume pricing discounts. Volume Discount Pricing is a great way for customers to save big on large, bulk orders of most items available in our store. Please
send a bulk order request
to our friendly sales staff so they may create a quote and provide personal service for your order! You will receive a response within 1-2 business days and our office hours are Monday through Friday, 8am-5pm CST.
We make it as easy as possible to ensure you get the lowest prices available:

Let us know what products & the quantities you are interested in.
Get a detailed quote from a dedicated sales rep.
Our warehouse ships directly to you.
You enjoy the savings & are now a preferred customer.

Send A Request Now

Direct From Warehouse Pricing