Honeywell 360 Surround Heater Slate Gray, HHF360V
Perfect for small to mid-sized rooms
Regular:

$49.95
Price: $35.95
You Save: $14.00 (28% Off)
- View Video On This Product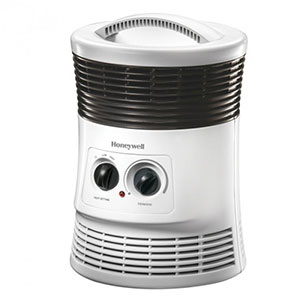 Fan forced wire heating technology with 1500 watt output
360° Surround Heat Technology for all around heat output
Easy to use manual controls
Adjustable thermostat
2 heat settings
Exceeds Industry Safety Standards
360° SafetyTip protection - automatically shuts off when tipped in any direction
Overheat safety protection
Cool Touch Handle
The Honeywell 360 Surround Heater provides energy savings, excellent safety features and the ability to control your comfort all at a reasonable price. Designed to provide all-around warmth, this 360° portable heater is perfect for small to mid-sized rooms and offers superior all-around room heating. The safety features include a 360° SafetyTip, which shuts the heater off if it is tipped in any direction, overheat protection and a sturdy base. The addition of two different heat setting modes and an adjustable thermostat allow for complete control over the heating process.
New and Improved design delivers a more efficient heat output than previous model
Color: Black
Room Size: Small to Medium
Product Dimensions: 9.13 x 9.06 x 12.99 in.
Product Weight: 5.37 lbs.
Maximum Wattage: 1500 watts
3 year limited warranty
Write A Customer Review
5
Average score based on 3 reviews
Absolutely Amazing
Reviewed: 12/11/2019 by PinkPrincess717
I love the Honeywell 360 Degree Surround Heater! It works great for warming up smaller rooms! I'm able to control the heat settings and adjust the temperature! I like the safety features it has also! If it gets tipped over the heater will turn off and it has overheat protection! It is has a handle on the top which makes it easy to carry! I am impressed! Above and beyond customer satisfaction!
heaterhhf360v
Reviewed: 12/05/2019 by Gloria LaVallee
This will be my 2nd one am still using the 1st one I bought 2 years ago just thought with rising prices on electricity I would like another one to go with it aahope I have the same luck with another one
Great product
Reviewed: 02/27/2018 by Sean Christian
Great item!!! Heats up medium size area like a living room, basement all depends on the space you might need 2 and a bedroom. I would buy another again.
Write A Review For This Product
If you are interested in ordering a large quantity of items you may qualify for volume pricing discounts. Volume Discount Pricing is a great way for customers to save big on large, bulk orders of most items available in our store. Please
send a bulk order request
to our friendly sales staff so they may create a quote and provide personal service for your order! You will receive a response within 1-2 business days and our office hours are Monday through Friday, 8am-5pm CST.
We make it as easy as possible to ensure you get the lowest prices available:

Let us know what products & the quantities you are interested in.
Get a detailed quote from a dedicated sales rep.
Our warehouse ships directly to you.
You enjoy the savings & are now a preferred customer.

Send A Request Now

Direct From Warehouse Pricing