Product News
Honeywell Portable Fans And Ceiling Fans Help Circulate Air Around Your Home or Office - 07/08/16
Honeywell Portable Fans And Ceiling Fans Help Circulate Air Around Your Home or Office
The
Honeywell Store
has just added a large selection of
Honeywell Ceiling Fans
to its online store. Available in an extended quantity of attractive and modern designs, Honeywell Ceiling Fans are a versatile addition for cooling off large areas of space. Intuitively designed to provide energy efficient cooling, Honeywell Ceiling Fans are capable of releasing a proper level of air circulation in nearly any setting. The availability of
Honeywell Fans
reassures the Honeywell Store's commitment for providing owners a steady stream of performance exceeding cooling options. Stay cool and comfortable this summer with Honeywell Fans and Honeywell Ceiling Fans.
Honeywell Portable Floor Fans, Dektop Fans, Oscillating Fans
The Honeywell Store has also included an extremely versatile selection of tower fans and table fans that can be implemented in nearly any room. The
Honeywell Comfort Control Tower Fan
is an ideal choice for any medium to large sized room. This tower fan includes a three speed setting and an oscillation that allows for widespread cooling. Versatility is increased tenfold with this tower fan's inclusion of a 1, 2, 4 and 8 hour auto-off timer. Other tower fans such as the
Honeywell QuietSet Whole Room Tower Fan
take full advantage of the highly evolved and revolutionary QuietSet technology. This function allows users to manipulate the overall quietness level of the HY-108 with eight differing settings. Experience all of the cooling options of an elite fan without the annoying clatter associated with rivaling fans. For the very best in accessible and efficient cooling, you can readily rely on the
Honeywell Store
to carry the most intuitive and cost effective ceiling fans and tower fans in today's market.
Comfort Control Tower Fan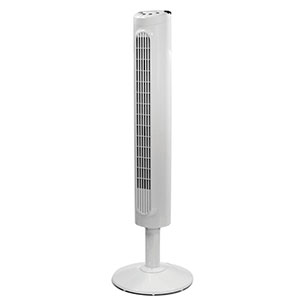 QuietSet Whole Room Tower Fan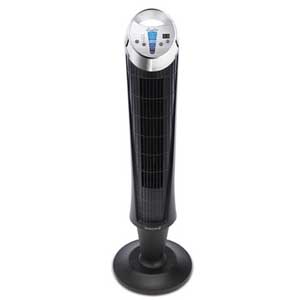 QuietSet Table Oscillating Fan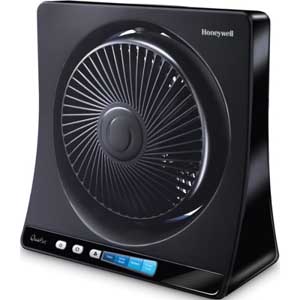 Whole Room Air Circulator Fan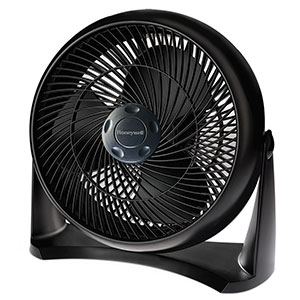 TurboForce Floor Fan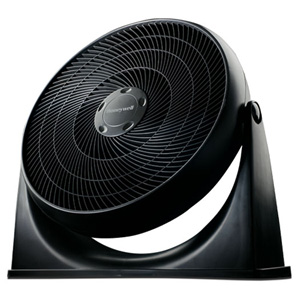 Quietset Mini Tower Table Fan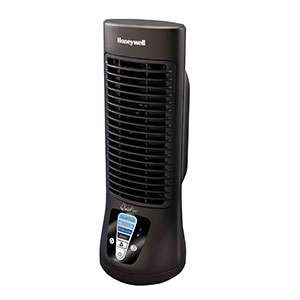 ---
Honeywell Indoor & Outdoor Ceiling Mounted Fans
Honeywell Ceiling Fans are available in a myriad of indoor and outdoor options. The
Honeywell Belmar Ceiling Fan
is coated in an oil rubbed bronze finish and features a four speed reversible motor. The inclusion of a sunset glass bowl adds layers of style to an efficient means of cooling off your surroundings. This is a stylish addition for any number of indoor locations that require a steady source of cool air. A selection of outdoor ceiling fans such as the
Honeywell Blufton Outdoor Ceiling Fan
provides a tremendous amount of options for owners to pursue when decorating their outdoor patio or pool area. This outdoor ceiling fan is comprised of bronze and features a frosted cased white light at its center. The inclusion of walnut/cedar reversible blades and the availability of three speeds make this an attractive selection for any outdoor setting.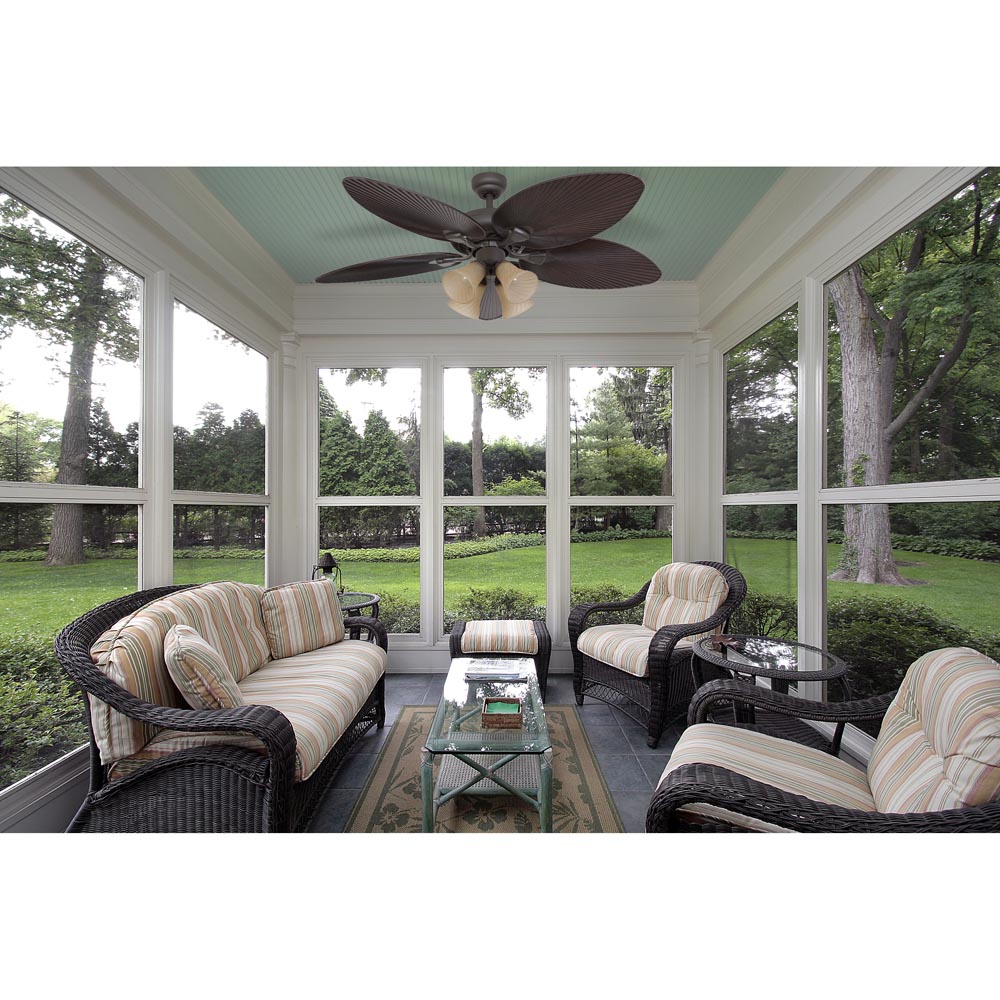 ---
News Archive
•
Benefits of Owning A Honeywell Humidifier During the Winter - Dry Air Prevention
- 12/05/16
•
Lyric Wiifi Water Alarm - The early smart home warning system for water damage and flooding
- 10/28/16
•
New Honeywell Series 3, 5 & 9 Wireless Doorbells and Push Buttons - Portable, Plug-in and Mounting Options Available
- 09/13/16
•
Merv Rating Compared to Furnace Air Flow Efficiency, Honeywell Furnace Filters for HVAC Systems Have you Covered
- 08/24/16
•
Honeywell Portable Fans And Ceiling Fans Help Circulate Air Around Your Home or Office
- 07/08/16
•
Make Your Home Smarter with Lyric By Honeywell
- 06/01/16
•
For a Limited Time Only, FREE SHIPPING on ALL Honeywell Safes
- 04/18/16
•
The Newest & Largest Capacity Portable Air Cooler by Honeywell Yet!
- 04/08/16
•
Fight Back Against Allergy Season with A Honeywell Air Purifier!
- 03/11/16
•
Honeywell Door Chimes - Easy Installation, Reliable Technology, Cost Effective Solution
- 02/12/16
•
Honeywell Generator Winter Guide: Expect The Unexpected
- 01/21/16
•
Honeywell Portable Humidifiers & Whole-Home Humidifiers Help Combat Dry Winter Air
- 01/05/17
•
Prepare for the Upcoming Winter Season with Honeywell Heaters
- 10/07/15
•
Light up the Night with Honeywell LED Light Bulbs and LED Indoor Flood Lights
- 07/10/15
•
Secure a Healthy Breathing Environment with Honeywell Air Purifier Filters and Humidifier Filters
- 06/02/15
•
See What Home Improvement Products are Trending This Month at The Honeywell Store
- 04/29/15
•
Fight Back Against Alergy Season with A Honeywell Air Purifier!
- 04/13/15
•
Honeywell Dehumidifiers Help Cleanse Your Surrounding Air, plus Fight Mold & Mildew Growth
- 04/13/15
•
Protect Your Documents This Tax Season with A Honeywell Fire/Water Safe - Free Shipping Through The End Of March
- 03/09/15
•
Safeguard Your Home or Place of Business with Honeywell Digital Security Door Locks
- 03/05/15
•
Save 10% & Enjoy Low Flat Rate Shipping on All Furnace Filter Bundles
- 02/03/15
•
Ring In the New Year WIth 20% Off All Honeywell Door Chimes
- 01/07/15
•
Honeywell Humidifier Filters, Replacement Filters and Replacement Humidifier Pads
- 11/24/14
•
Just in Time for the Holiday Season, The Honeywell Lyric WiFi Smart Thermostat Is Here!
- 11/21/14
•
Honeywell Safes Awarded Consumer Digest Magazine's
- 10/07/15
•
Be Prepared For Hurricane Season & Save Big On All Honeywell Generators!
- 10/02/14
•
The Honeywell Store WiFi Thermostat Give Away Contest
- 09/19/14
•
The New Honeywell QuietSet Table Oscillating Fan With Sleek Digital Controls!
- 10/02/14
•
Get the Better of Allergy Season with the Purchase of a Honeywell Air Purifier!
- 05/27/14
•
The Honeywell Store Now Offers Free Shipping on Revolutionary Wi-Fi Thermostat
- 11/24/14
•
Honeywell HVAC Furnace Filters - The Premier Defense against Seasonal Allergies!
- 09/19/14
•
Spring Break is Here, Stay Cool with a Portable Honeywell Home Fan!
- 03/25/14
•
Honeywell Digital Compact Multi-Purpose Security Safes - Now in Multiple Colors!
- 12/01/14
•
Honeywell Portable Air Conditioners - Perfect for Parties, Events and Lowering Energy Costs
- 12/01/14
•
Honeywell Paper Shredders - Protection from Identity Theft
- 09/23/14
•
Honeywell Smart WiFi Thermostats with Color Display and Voice Control!
- 09/23/14
•
Save Instantly on Honeywell Air Cleaning Filter Bundles!
- 09/19/14
•
Never be left out in the cold with Honeywell Portable Gas Powered Generators
- 01/24/14
•
Redefining the Door Chime - Honeywell Multi-Functional Door Chimes
- 09/19/14
•
Holiday Shopping at the Honeywell Store - Save 15% Instantly!
- 12/18/13
•
Honeywell WiFi Thermostats - Remotely Control the Temperature of your Home!
- 09/19/14
•
Air Coolers are NOT Air Conditioners
- 09/19/14
•
Honeywell Fans with Febreze Freshness New for Summer 2013
- 12/04/13
•
New Honeywell Thermostats
- 09/23/14
•
New Muck Boots For Everyone in the Family
- 02/05/13
•
Honeywell Store Featured Product of the Month
- 08/02/12
•
Honeywell Air Purifiers Product Lineup 2012
- 08/02/12
•
Honeywell Fans Product Lineup 2012
- 05/03/12
•
New Muck Boots in the Muck Boot Product Line
- 01/23/12
•
Muck Boot for Muck Maneuverability
- 01/23/12
•
Humidifiers Reduce Survival of Flu Viruses on Surfaces and in the Air*
- 12/01/10
•
Honeywell Inverters Featured in Handyman.com Video
- 08/08/09
•
Honeywell Air Cleaners
- 03/25/09
•
Report: Most Americans in areas with unhealthy air
- 04/30/09