Product News
The Newest & Largest Capacity Portable Air Cooler by Honeywell Yet! - 04/08/16
The Newest & Largest Capacity Portable Air Cooler by Honeywell Yet!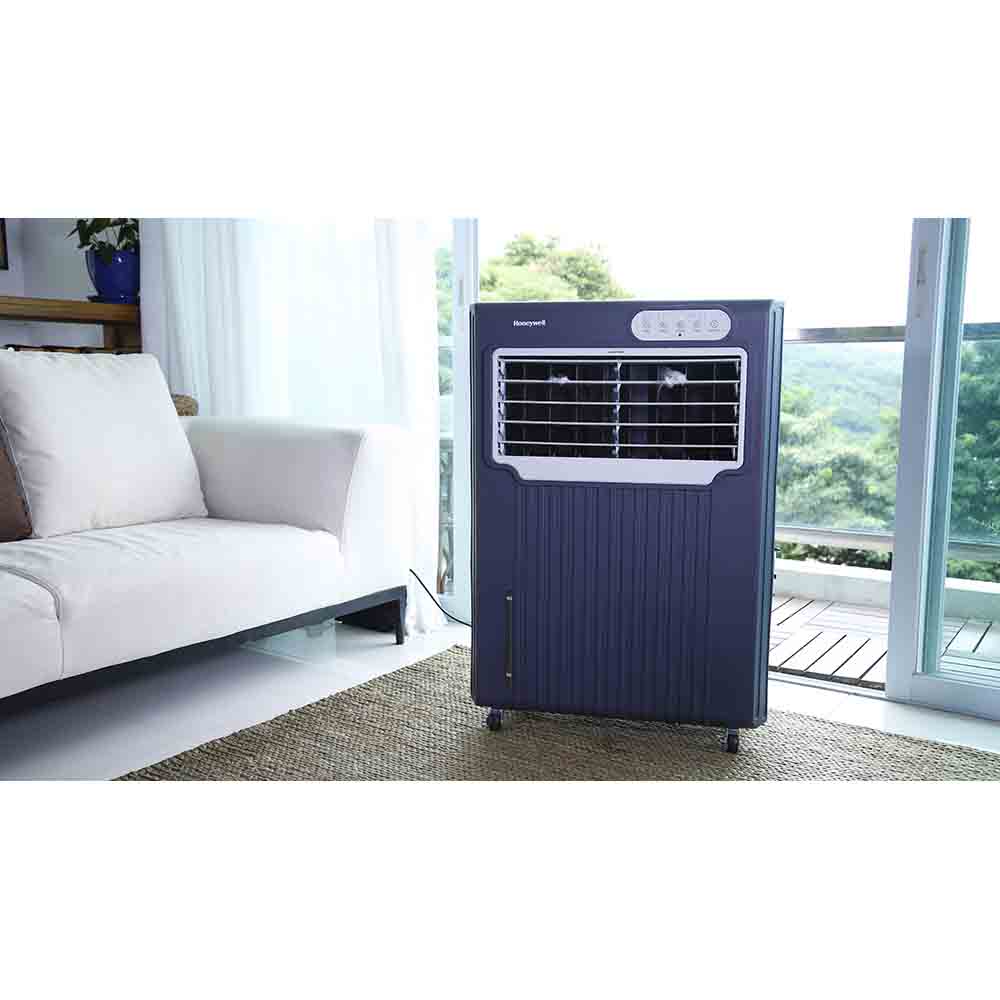 The Honeywell Store
is excited to announce the latest installment in a series of highly efficient and resourceful evaporative air coolers. The
Honeywell 70 Liter Indoor-Outdoor Portable Evaporative Air Cooler with Remote Control
is an excellent addition for anyone searching to keep their indoor or outdoor settings comfortably cool and breezy. An ideal fit for medium to large sized rooms, this weather resistant evaporative air cooler by Honeywell is capable of cooling areas up to 342 sq. ft. Built in UV and weather resistant protection ensure the maximum in peace of mind when deploying this air cooler outdoors. Unlike other units, Honeywell Evaporative Air Coolers do not utilize power hungry components like compressors. Honeywell has instead elected to apply a non-compressor system that cools naturally, efficiently and inexpensively. The low power consumption translates to significant savings on energy bills when compared to air conditioners.
A continuous water supply connection and built-in overflow protection system opens the way for long periods of cooling, making it ideal for more demanding applications. A massive 18.5 Gal. (70 liters) water capacity that includes a low water alarm has also been utilized. This evaporative cooler features a unique JUMBO sized honeycomb cooling media for optimal cooling performance. The inclusion of double blowers allows for a higher velocity of air throw (588), while oscillating horizontal and vertical louvers allow for fast and even air circulation. Although large in size, this unit is relatively lightweight and includes strong casters that make it easy to roll from one room to the next.
Honeywell continues to set an industry standard for excellence with the release of its exquisitely crafted series of air coolers.
The Honeywell Store
has outfitted its online catalogue with a collection of versatile
Honeywell Air Coolers
that can be utilized in a wide range of settings.
---
News Archive
•
Benefits of Owning A Honeywell Humidifier During the Winter - Dry Air Prevention
- 12/05/16
•
Lyric Wiifi Water Alarm - The early smart home warning system for water damage and flooding
- 10/28/16
•
New Honeywell Series 3, 5 & 9 Wireless Doorbells and Push Buttons - Portable, Plug-in and Mounting Options Available
- 09/13/16
•
Merv Rating Compared to Furnace Air Flow Efficiency, Honeywell Furnace Filters for HVAC Systems Have you Covered
- 08/24/16
•
Honeywell Portable Fans And Ceiling Fans Help Circulate Air Around Your Home or Office
- 07/08/16
•
Make Your Home Smarter with Lyric By Honeywell
- 06/01/16
•
For a Limited Time Only, FREE SHIPPING on ALL Honeywell Safes
- 04/18/16
•
The Newest & Largest Capacity Portable Air Cooler by Honeywell Yet!
- 04/08/16
•
Fight Back Against Allergy Season with A Honeywell Air Purifier!
- 03/11/16
•
Honeywell Door Chimes - Easy Installation, Reliable Technology, Cost Effective Solution
- 02/12/16
•
Honeywell Generator Winter Guide: Expect The Unexpected
- 01/21/16
•
Honeywell Portable Humidifiers & Whole-Home Humidifiers Help Combat Dry Winter Air
- 01/05/17
•
Prepare for the Upcoming Winter Season with Honeywell Heaters
- 10/07/15
•
Light up the Night with Honeywell LED Light Bulbs and LED Indoor Flood Lights
- 07/10/15
•
Secure a Healthy Breathing Environment with Honeywell Air Purifier Filters and Humidifier Filters
- 06/02/15
•
See What Home Improvement Products are Trending This Month at The Honeywell Store
- 04/29/15
•
Fight Back Against Alergy Season with A Honeywell Air Purifier!
- 04/13/15
•
Honeywell Dehumidifiers Help Cleanse Your Surrounding Air, plus Fight Mold & Mildew Growth
- 04/13/15
•
Protect Your Documents This Tax Season with A Honeywell Fire/Water Safe - Free Shipping Through The End Of March
- 03/09/15
•
Safeguard Your Home or Place of Business with Honeywell Digital Security Door Locks
- 03/05/15
•
Save 10% & Enjoy Low Flat Rate Shipping on All Furnace Filter Bundles
- 02/03/15
•
Ring In the New Year WIth 20% Off All Honeywell Door Chimes
- 01/07/15
•
Honeywell Humidifier Filters, Replacement Filters and Replacement Humidifier Pads
- 11/24/14
•
Just in Time for the Holiday Season, The Honeywell Lyric WiFi Smart Thermostat Is Here!
- 11/21/14
•
Honeywell Safes Awarded Consumer Digest Magazine's
- 10/07/15
•
Be Prepared For Hurricane Season & Save Big On All Honeywell Generators!
- 10/02/14
•
The Honeywell Store WiFi Thermostat Give Away Contest
- 09/19/14
•
The New Honeywell QuietSet Table Oscillating Fan With Sleek Digital Controls!
- 10/02/14
•
Get the Better of Allergy Season with the Purchase of a Honeywell Air Purifier!
- 05/27/14
•
The Honeywell Store Now Offers Free Shipping on Revolutionary Wi-Fi Thermostat
- 11/24/14
•
Honeywell HVAC Furnace Filters - The Premier Defense against Seasonal Allergies!
- 09/19/14
•
Spring Break is Here, Stay Cool with a Portable Honeywell Home Fan!
- 03/25/14
•
Honeywell Digital Compact Multi-Purpose Security Safes - Now in Multiple Colors!
- 12/01/14
•
Honeywell Portable Air Conditioners - Perfect for Parties, Events and Lowering Energy Costs
- 12/01/14
•
Honeywell Paper Shredders - Protection from Identity Theft
- 09/23/14
•
Honeywell Smart WiFi Thermostats with Color Display and Voice Control!
- 09/23/14
•
Save Instantly on Honeywell Air Cleaning Filter Bundles!
- 09/19/14
•
Never be left out in the cold with Honeywell Portable Gas Powered Generators
- 01/24/14
•
Redefining the Door Chime - Honeywell Multi-Functional Door Chimes
- 09/19/14
•
Holiday Shopping at the Honeywell Store - Save 15% Instantly!
- 12/18/13
•
Honeywell WiFi Thermostats - Remotely Control the Temperature of your Home!
- 09/19/14
•
Air Coolers are NOT Air Conditioners
- 09/19/14
•
Honeywell Fans with Febreze Freshness New for Summer 2013
- 12/04/13
•
New Honeywell Thermostats
- 09/23/14
•
New Muck Boots For Everyone in the Family
- 02/05/13
•
Honeywell Store Featured Product of the Month
- 08/02/12
•
Honeywell Air Purifiers Product Lineup 2012
- 08/02/12
•
Honeywell Fans Product Lineup 2012
- 05/03/12
•
New Muck Boots in the Muck Boot Product Line
- 01/23/12
•
Muck Boot for Muck Maneuverability
- 01/23/12
•
Humidifiers Reduce Survival of Flu Viruses on Surfaces and in the Air*
- 12/01/10
•
Honeywell Inverters Featured in Handyman.com Video
- 08/08/09
•
Honeywell Air Cleaners
- 03/25/09
•
Report: Most Americans in areas with unhealthy air
- 04/30/09